Itinerary
Aquamarine, affectionately known as "the jewel of the ocean" due to its irresistible beauty of pure blue, is thought to bring calm, peace, and positive energy to those who own it. This precious Aquamarine inspired the establishment of Aquamarine Cruises, with the mission of connecting visitors to nature's true and pure beauty. Aquamarine Cruises owns two 5-star cruise brands, Halong Aquamarine and Aquamarine Legend, both of which feature luxurious amenities and world-class service quality. These will be an excellent choice for travelers looking for a memorable journey to experience the natural wonders of Halong Bay.
HIGHLIGHTS



ITINERARY:
DAY ONE: Hanoi - Halong - Lan Ha Bay (Lunch & Dinner)
08:00: Pick up in Hanoi's Old Quarter and transfer to Halong Bay (if the package includes transfer service).
Arrival at the Halong Aquamarine check-in lounge at 11:30 a.m. After the long drive from Hanoi, you will have time to rest and wait for check-in.
12:15: You will be checked in after being transported to the Halong Aquamarine Cruise. The cruise manager will introduce you to the itinerary and provide a safety briefing while you enjoy welcome drinks.
13:00: Enjoy your delicious buffet lunch as the boat cruises to the southeast of Halong Bay, past Fighting-Cock and Finger Islet.
14:30–16:00: The group is transported by boat to Luon Cave. You can explore the uniqueness of this location by kayak or bamboo boat (optional).
16:00–17:00: Hike to the top of Ti Top Island for breathtaking views of the Bay. After your hike, cool off in the emerald waters of Halong Bay or sip from a coconut in the shade.
17:30–19:00: Return to the ship for a sunset party with HAPPY HOUR (from 17:30–19:00)—buy two, get one free on drinks at the Aquamarine Thalassius Bar or Sundeck
19:15: Dine under a sky full of stars while enjoying a delicious meal that has been carefully prepared.
20:30: This is the ideal time to unwind with karaoke or a drink at Aquamarine Thalassius Bar. Furthermore, we provide free squid fishing tools at reception.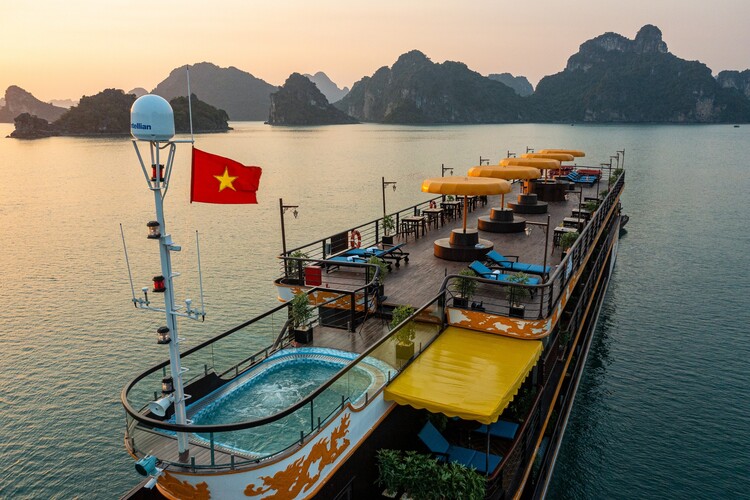 DAY TWO: Lan Ha Bay- Halong Bay - Hanoi (Breakfast & Lunch)

06:00: Start your day with a Tai Chi lesson on the sundeck while watching the sun rise over Halong Bay.
07:00 - 07:30: The restaurant serves a light breakfast.
07:30 – 08:30: The magnificent Sung Sot Cave, one of the largest caves in Ha Long Bay with beautiful stalactites, is your next stop. When you exit the cave, you will be surprised by the breathtaking panoramic view of the Bay, as well as the stalactites and stalagmites that have formed over millions of years and have taken on fascinating shapes.
08:30 – 09:30: You settle your bill, check out, and return to Tuan Chau Island.
09:45 – 10:45: While the boat returns to the harbor, brunch is served at the restaurant.
Disembark at Tuan Chau Marina and return to Hanoi between 10:45 and 11:00 a.m.
Inclusion
Inclusion:
✅ All meals on board
✅ Limousine transfer round trip - Hanoi - Lan Ha - Hanoi
✅ Private Cabin on board with Balcony
✅ All entrance tickets & fee
✅ All activities on board
✅ Kayaking & swimming

Exclusion:
❌ Surcharge during holiday
❌ Spa
❌ Tips
❌ Personal expense
Cancellation Policy
1. Cancel by customer
- More than 5 days prior to arrival: complimentary
- 5 to 3 days before to arrival: 50% of the total rate.
- Less than 3 days before to arrival: full rate.
- No-show: 100 percent of total rate.
*Refund will be issued within 7 business days

2. Cancellation due to inclement weather:
- In the event of inclement weather, the Management Board of Halong Bay will determine the morning of departure whether a cancellation is necessary. If such a cancellation is necessary, we will provide alternative travel arrangements or a full refund in accordance with the cruise policy.

3. Child Policy
- Child from 0 - 4 Years old: free of charge. Sharing the same bed with parents
- Child from 5 - 11 years old: 75% charge. Sharing the same bed with parents
- Child above 12 years old: 100% charge. Private Bed (extra Bed) within the same cabin as parents