Best Day Trips from Hanoi? 3 Recommended Options
Hanoi, the heart of Vietnam, is one of the most popular tourist destinations in this Southeast Asian country. About 4 to 5 days is more than plenty to scour the whole metropolis. But after that, which city should you visit?
Our article will introduce three solutions for day trips from Hanoi, ensuring both your time and money are well-spent!
Best Day Trips from Hanoi in 2022
1. Halong Bay - Hanoi Deluxe Tour
Halong Bay (Source: Flickr).
Halong Bay is a UNESCO-monikered global wonder, which would be a wonderful conclusion to your Vietnam tour.
With this excursion, you may enjoy some of the most stunning landscapes in the world – such as Sung Sot Cave and Ti To Island - on a gorgeous Jade Sail ship. Littered with stony animal shapes, colored lighting, and beautiful stalactites, they will leave a lasting impression on any fortunate spectator.
Most Halong Bay's cruise services are accompanied by onboard 24/7 Wifi to facilitate your real-time photo sharing on social media. These tours also offer a diverse array of kayak and boat rides that bridge between spectacular lagoons and sea caves. Even better, there are taxi transfers on each expressway to save traveling time.
Such a voyage trip can accommodate up to 100 people in total - the more the merrier!
The highlight of the trip:
Here's what you're going to do during your one day in Ha Long Bay:
- Kayaking: A rare chance to do kayak in one of the most UNESCO WORLD Heritage site.Sailing along a private lagoon, use your bare hand to touch the stone stalactities will make the experience more memorable. Besides, Halong kayaking area also known as the habitat of Golden Monkey, where you can find them running in group and "asking" for food. What a joy, right ?
- "Suprising" Cave visiting: live up as its name, the cave will make you suprise because of its beauty. The cave was named by the French when they still colonized Vietnam, as they were shocked because of the stunning beauty of it.
- Cruising: An unique way of traveling to Halong Bay is by cruise. Most of the cruises are made of wooden vessels, equipped with restaurant and bathrooms on board to make sure all of the guests have a comfortable ride. Last but not least, there's a wide sundeck to ensure you'd have a complete wide view of the area.
Check out our recommendation of Halong Day Trips here.
2. Mua Cave – Trang An – Bai Dinh – Ninh Binh Full-day Trip
Bai Dinh Pagoda (Source: Flickr).
This inclusive tour takes you to the most renowned places in Vietnam within a compact timeframe of 12 hours. Visitors will have the golden opportunity to step foot in Bai Dinh - the largest Vietnamese pagoda to date - with exquisite Buddhist statues and antique constructions.
Afterward, you can board a ferry to drop by the magnificent Trang An Caves, admiring its beautiful sea and countryside sceneries. In the same vein, a trek along Mua Cave paves the way for a gorgeous panorama, revealing the dazzling overview of Tam Coc Area - Ngo Dong River.
Fifteen people is often the maximum capacity of these tours, much less than Halong Bay-Hanoi voyage trips, but still more than enough to invite some of your best acquaintances!
Highlights of the trip:
- Bai Dinh Bagoda: The biggest pagoda in Asia with tons of records will provide you with a brief view of Buddhism in Vietnam. A calm atmosphere together with magnificent and unique designs and structures would make your trip complete.
- Trang An Grottoes: The destination was chosen to film the famous movie "King Kong 2," which is enough to say about its beauty. Besides, it's so similar to Halong Bay that people call it "Halong Bay on land". Traveling there, you'll sit on a sampan boat, riding along the rivers to explore every corner of the area.
Confusing about how to get there? Check our tour now: Ninh Binh day trips
3. Hoa Lu - Mua Cave - Tam Coc Day Trip
The ancient capital of Hoa Lu (Source: Flickr).
Unbeknownst to many, Hoa Lu used to be the capital long before Thang Long (later renamed Hanoi) took its place. You might want to explore how the Vietnam central town looked like in the 10th and 11th centuries! The stunning Dinh and Le dynasty architectures will leave you amazed and breathless.
From here, you are presented with three distinct options:
The first alternative is to navigate to Tam Coc, where you will be greeted with delectable buffet lunches, tranquil rural villages, and golden rice paddies.
Another tactic includes an extra visit to Mua Cave and its charming coastlines. Meanwhile, pricier packages incorporate all of these destinations mentioned above, accompanied by a boat ride along the Ngo Dong River and a short drop-by at Bich Dong Pagoda. Here, you may learn interesting historical facts about the Dinh and Le dynasties.
All in one package for travellers who don't have much time could be found at our offers here.
FAQs
1. Which One is A Better Tourist Destination - Halong or Ninh Binh?
With its UNESCO-recognized caves and magnificent harbors, Halong Bay will wow any tourist who is a goner for breathtaking panoramas. But on the other hand, Ninh Binh's tranquil countryside scenery is also worth a second look. It's quite tough to compare both; the ultimate choice lies in your unique preferences and demands!
2. Is One Day Enough to Explore All Nooks and Corners of Halong/Ninh Binh?
In theory, yes. After all, most tour alternatives introduced in these guidelines are day trips, meaning you can reach the most notable attractions of these provinces within a day.
Nevertheless, for sightseers who desire a more intensive and dynamic experience, maybe one day is still far from sufficient. Confirm this by yourselves and book an extra tour if necessary!
Conclusion
This article has introduced to you the most optimal day trips from Hanoi, on which you may access tons of Vietnam's renowned attractions without wasting time. Bring in a close acquaintance or family member, and start packing for your journey now! Write to us for more questions, if any.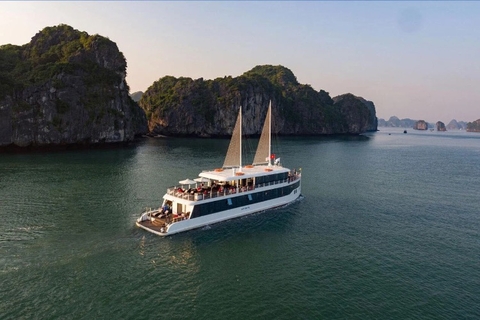 Destination:

LanHa Bay & Halong Bay

Duration:

12 hours
you are watching:
Best Day Trips from Hanoi? 3 Recommended Options
Comment (157comment)