Cruise in Halong Bay - Deep Plunge Into The World's Wonder
With its distinctive beauty, limestone mountains, and numerous scenic sites, Ha Long Bay is a must-see when visiting Vietnam.
Whether you want to explore the fishing villages or take in the stunning karst scenery, Halong Bay got you covered. So, what better way to explore everything than on a cruise in Halong Bay?
Taking a cruise, you'll savor mouthwatering cuisine, admire unspoiled beaches, gorgeous mountains, and taste an exhilarating kayaking adventure.
Halong Bay Cruise Itineraries
Day Cruises
The majority of day cruises in Halong Bay are on classic wooden boats with 4- or 6-hour itineraries. This is the best option for people with a limited budget and time who wish to get a quick glimpse of Halong Bay's magnificence.
Except for the Paradise Elegance Cruise, which is like a luxury floating hotel with en-suite suites, a top-notch spa, and many other modern amenities, day cruises do not feature cabins.
When you take a day cruise, you'll receive mineral water, lunch, fruits at the sunset party, and transportation to well-known tourist destinations.
Overnight Cruises
Overnight cruises are traditional options that give you more time to unwind and thoroughly appreciate the marine environment. What's more, the ocean waves will gently lull you to sleep on board and wake you up to behold a once-in-a-lifetime view. 2 days 1 night cruises are ideal for most passengers and last exactly 24 hours. Longer trips are ideal for those seeking to relax and explore the bay's more secluded parts.
When taking a 3D2N or 4D3N trip, you will switch from the main boat to a smaller one for the day before returning to the main boat in the evening.
Cruise in Halong Bay - Top Recommendations
There are many cruise tours available, and we have researched to compile the top cruises in Halong Bay to point you in the right direction. Otherwise, scouring Advancedsitestats.com or Cruiseshalong.com would do you good. Otherwise, we'd love to present our selected Halong Bay Cruise Overnight as below:
Day Cruises
As previously stated, a day trip would be a sensible decision if your time is quite restricted. As long as you choose the right tour, you can still have a chance to visit caves and enjoy other activities like kayaking or swimming. Below are some of the great options you can try:
Alova Premium
Duration: 1 day

Price: From $69/ pax
Aiming to accommodate small parties and families, the boat only allows a maximum of 9 rooms. That assures you of privacy and an absence of intrusion from other passengers. In addition, the cruises are outfitted with all the essential amenities to guarantee guests' safety and comfort. Room service, food and drinks, a recreation and sunbathing area, squid fishing, and kayaking are just a few to name.
Arcady Cruise
Duration: 1 day

Price: From $55/ person
With Arcady Cruise, you may see the Cat Ba Islands and Lan Ha Bay, which are different from other day cruises. In this tour, you may cycle to Cat Ba National Park, climb to Hospital Cave, kayak, or row in a sampan boat to see the Dark and Bright Caves.
Further, you may participate in various activities, including swimming, Vietnamese cooking classes, and a sunset party. All of them are fascinating and engaging.
The Catamaran Halong
Duration: 1 day

Price: from $96/ pax
The day you spend sailing across the gorgeous seas of Lan Ha Bay and Halong Bay will be unforgettable. This brand new luxury premium boat, staffed with a friendly and inviting crew, wonderful food, and engaging activities, will make your stay comfortable and delightful.
With a smooth ride as our boat effortlessly glides across the waters, the improved catamaran boat design will promise to please you with the best yachting experience.
The boat's amenities entail bars, sundecks with lounge chairs, indoor and outdoor restaurant seating, and a relaxing boat suspended in the water between the ship's two hulls.
Overnight Cruises
If you only have two or three days in Halong Bay, we recommend taking an overnight cruise. It will enable you to explore the bay more thoroughly, participate in various excursions, and learn more about this UNESCO World Heritage site.
There are several possibilities available for an overnight journey. You can select a luxury, mid-priced, budget, honeymoon, and family cruise. Likewise, there are additional activities on longer cruises. The recommendations listed below are some worth the price:
Luxury Cruises
Luxury cruises stand out from cheap and mid-range cruises credited to their exclusivity and extravagance. They are 5-star or 6-star ultra-luxury cruises with various high-end amenities such as a spa, a gym, a swimming pool, a wine cellar, and a mini-golf course.
Le Theatre
Duration: 2D1N, 3D2N

Price: from $170/ person
The elegance and sparkle of the restaurant, the attractive décor room style, and the fully modern technology might amaze guests as they set foot on the Le Theatre cruise. Furthermore, this cruise offers water sports like swimming, fishing, and kayaking, so you will undoubtedly have an amazing time contemplating this World Heritage Site.
Stella of The Sea Cruise
Duration: 2D1N; 3D2N

Price: from $230/ person
Stella of the Sea, dubbed a super yacht in Lan Ha Bay, truly dazzles guests with its contemporary and opulent design, rivaling Western boats and elite 5-star hotels.
The boat has four levels and 22 magnificent rooms spread over four different classifications (Junior, Senior, Executive & President). Luxury dining establishments, a bar with sweeping views of Lan Ha Bay, a wine cellar, a golf course, a spa, and a swimming pool are also ready to delight you on the voyage.
During the tour, visitors will experience kayaking in the vicinity of Frog Pond, Ba Trai Dao, and ride a bamboo boat to visit Bright Cave and Dark Cave to get immersed into the tranquility and majesty of nature on their way to Lan Ha Bay.
With a pleasant time on the yacht, overlooking Lan Ha Bay with hundreds of rocky islands surrounding it is a truly wonderful excursion.
Mid-range Cruise
The majority of Halong Bay cruises fall within the mid-range price category. The ships may be made of steel or wood. On a 4-star cruise with top-notch amenities, you may relax and take it easy.
Sena Cruise
Duration: 2D1N, 3D2N

Price: from $135/ pax
Sena takes the lead among mid-price range cruises. It offers 18 charming, traditional accommodations for your completely unwinding vacation on the top-rated cruises in Halong. Besides, every lodging comes with a private balcony or patio with breathtaking views of the bay.
The enthusiastic and considerate team of the cruise will provide you with the most devoted and friendly services upon embarkation on the trip.
The luxurious comfort of the trip is enhanced by a wide choice of excellent services and amenities. While there are many different dining options at the exquisite restaurant and bar, visitors may also enjoy various massage and spa services at the ship spa.
Lan Ha Bay trips are Sena Cruise's area of expertise. Visitors can behold well-known sites, such as Trung Trang cave, Cai Beo fishing hamlet, and Dark & Bright cave. There are fun activities on every shore excursion, such as biking, fishing, swimming, and kayaking.
Aspira Cruise
Duration: 2D1N; 3D2N

Price: from $160/ person
Aspira Cruises, thanks to its modern designs and with customers in mind, would be the finest choice among the mid-range cruises in Lan Ha Bay for the most authentic experience.
The precise arrangement of every component in the Aspira Cruise's design ensures that every passenger is as comfortable as possible. The 22 opulent accommodations on the cruise are exquisitely furnished with contemporary conveniences, featuring a private balcony, toilet, and other necessities. Additionally, a system of restaurants, bars, spas, and gyms will spoil customers while traveling on Aspira Cruises to Lan Ha Bay.
On this trip, visitors can cruise to Lan Ha Bay, a less-visited spot on the fringe of Halong Bay.
There, you will have the opportunity to partake in various thrilling sports like swimming, mountain hiking, kayaking, squid fishing, and cycling.
Budget Cruise
The least expensive choice, budget cruises, has done a great job of providing passengers on a tight budget with an economical voyage around Halong Bay. Frequently, they are small wooden ones that meet the 3-star criteria.
Swan Cruise
Duration: 2D1N; 3D2N

Price: from $120/ pax
Swan Cruise is a three-star Halong Bay cruise ship built in 2015. The trip offers each passenger an elegant and pleasant cruising experience in Bai Tu Long Bay, inspired by the lovely classic simplicity of a swan image.
Swan Cruise is a tiny boat with 11 boutique accommodations, namely two connecting family doors, one triple, and five twins, drawing inspiration from the traditional local culture and harmonizing local materials.
It also has a team of eager and experienced workers and crew to assist customers with service and facilities. With a world-class dining venue, a panoramic bar, and a huge sundeck coming with tanning chairs, you can expect the greatest level of satisfaction.
The well-thought-out route will surely interest visitors. You can visit Vung Vieng or Doan Xa Village, Cap La Island, Thien Canh Son Cave, among the top Bai Tu Long Bay attractions. Also, the tour encompasses out-of-this-world shore excursions and exhilarating water sports at these spectacular locations.
Glory Legend
Duration: 2D1N; 3D2N

Price: from 130/ pax
The Glory LegeNd sticks out as an exceptional 3-star cruise with a classical Western design. The ship has 22 roomy, luxurious staterooms with enormous en-suite bathrooms, a relaxing sundeck, and a sophisticated dining room and bar.
The itinerary of the cruise covers a visit to a remote area of Ha Long Bay as well as a variety of activities, such as squid fishing, Tai Chi, kayaking, cookery lessons, and cave exploration.
With the Glory cruise, your journey will be jam-packed with fun activities and downtime with loved ones.
Honeymoon Cruises
Honeymoon cruises, as its name suggests, gear towards intimate voyages. This ensures that passengers have plenty of solitude and peace. Lounging on the sundeck with your loved ones with a cocktail on hand while taking in the magnificent view of Halong Bay would be amazing.
Many Halong Bay cruises now offer activities that a couple can enjoy together. In addition, there are options that focus more on organizing honeymoon excursions than others. They have years of experience working with honeymooners, so they will certainly hit your spot. Here are the two fantastic options:
Prince Junk
Duration: 2D1N, 3D2N

Price: from $378/ person
Prince Junk is a smaller version of a typical fishing boat ideal for honeymooners and couples.
It provides newlyweds with two noteworthy services, including beach BBQs and dinners in caves. A special table for two in a rocky cave with low candlelight or enjoying exquisite, grilled scallops while watching the sunset on a secluded beach are opportunities that don't come along often. We would all like to have these romantic encounters once in our lives.
This trip travels to the off-the-beaten-path bay of Bai Tu Long, where you may visit some unique floating towns and explore gorgeous undeveloped caverns and islets.
All these factors make it the perfect choice for a couple's journey of its readily customizable schedule, individualized services, skillful staff, and secluded atmosphere.
Heritage Cruise
Duration: 2 days, 3 days, and 4 days.

Price: from $225/ person
This cruise's beautiful French Indochina design will transport you to colonial Vietnam. It is an excellent option for newlyweds looking to cruise in the Halong Bay region, as it offers cruises to the Cua Van floating hamlet, Tien Ong cave, and Titop Island.
With only six cabins, Heritage Cruise is both intimate and spacious enough for friendly couples wishing to make new acquaintances and take in the wonders of World Wonder Bay. When you invite your closest friends to join you on your honeymoon, the cruise size is also ideal for a buddy moon.
Family Cruises
Family-friendly cruises are well-known for their extra amenities for kids and babies or their ability to meet the demands of families by providing extra beds or family cabins. What sets these cruises apart is that they will have something special for you and your family if it's a special event, like your anniversary or your child's birthday.
Rosa Cruise
Duration: 2D1N, 3D2N

Price: from $125/ pax
The Rosa Cruise is a stunning modern yet traditional Vietnamese junk boat that delivers fantastic value for money for families. It's quite small, perfect for an intimate reunion, with only nine cabins.
Families can board this 3-star cruise and stay in adjoining rooms accommodating two adults and two kids. A triple room, which comprises a double bed and a single bed, is suitable for smaller families. The 18m2 rooms are ample and provide all basic amenities and big windows with fantastic views.
While on your trip, you'll enjoy some stunning parts of Halong Bay when tasting delicious meals.
Onboard activities are endless, like going to the Pearl Farm Village, swimming, kayaking, squid fishing, Tai Chi, touring Sung Sot Cave, and taking cookery classes. Those on the lengthier tour will also have more time to kayak and swim at Titop Island.
Scarlet Pearl Cruise
Duration: 2D1N, 3D2N

Price: $180/ person
Scarlet Pearl is Halong Bay's newest 5-star cruise. This modern boat features clever control systems and safety equipment to ensure a secure and comfortable stay. Visitors also have access to the most modern facilities and equipment.
Due to the cruise's excellent, personalized services and selection of first-rate amenities, guests will have a comfy and luxurious experience.
The dining room and chic bar at Scarlet Pearl are meant for foodies, and the expansive sundeck boasts a Jacuzzi pool and a personal workout facility.
Plus, there is a high-end Akoya spa where visitors may indulge in exclusive Akoya massages and a Pearl Museum where they can shop for fine pearls while still aboard the ship.
The cruise itinerary covers some of Lan Ha Bay's must-see locations. A speedboat carries visitors to Viet Hai Village, located in the heart of Cat Ba National Park. Then, they can ride their bike through the village roads to see a typical home and the numerous locals who live there.
Meanwhile, beach lovers will enjoy the excursions to Ba Trai Dao beach and Dau Be Island, where they can freely swim in the emerald ocean. Finally, they can rent a kayak or a local bamboo boat to explore the Dark & Bright cave.
FAQs
Should I Book a Cruise Tour In Advance?
Booking the cruise beforehand will help you obtain a better deal because you'll have more time to choose a suitable cruise, take advantage of a promotion, or locate online travel agents with competitive rates. Some trustworthy agencies are woodenboat.com, cruiseshalong.com, justglobetrotting.com, iamcal.com, siteslike.com, tourism.vn, vietnamtourism-info.com, to name a few.
Is The Halong Bay Cruise Worth It?
Yes, it is. No one can deny the unique beauty, tranquility, and peacefulness of the bay. Exploring the crystal caves, jumping off the boat at sunset into the gorgeous pearly water, and falling asleep beneath the glittering night sky, what more could you want? Depending on your chosen cruise, you might have a relaxing and enjoyable time.
How To Choose The Best Halong Bay Cruise?
When it comes to selecting the best boat, you must examine many tours and conduct a cruise rating study prior to your trip. You need to consider and make decisions such as the price, duration, the size of the boat, your time and budget, partner, itinerary, and food. For more cruise tips and expert advice, you can check out vivuhalong and Halong Bay.
Conclusion
A cruise in Halong Bay is a must-do in your bucket list because the scenery offers many excellent experiences. Plan a trip to this location with your family, friends, or partner as soon as possible and prepare for an exciting and culturally enriching vacation.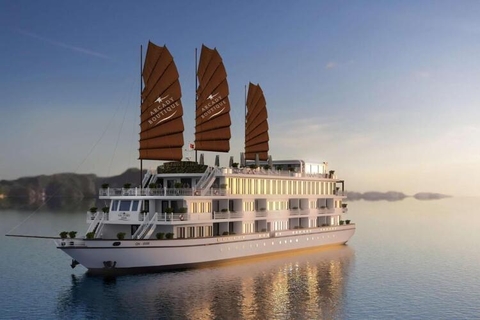 Destination:

LanHa Bay & Halong Bay

Duration:

2 days 1 night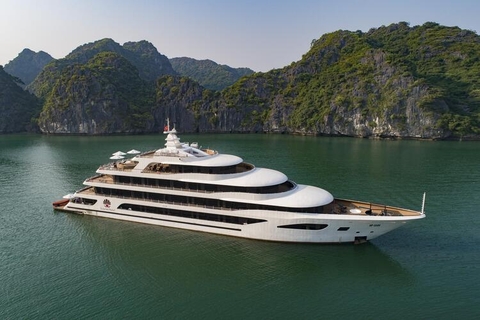 Destination:

LanHa Bay & Halong Bay

Duration:

2 days 1 night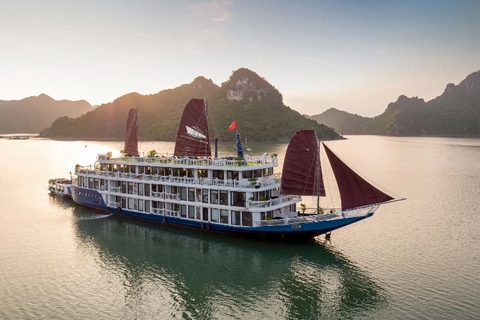 Destination:

Lan Ha & Halong Bay

Duration:

2 days 1 night
you are watching:
Cruise in Halong Bay - Deep Plunge Into The World's Wonder