Itinerary
Arcady Boutique Cruise will take you on an unforgettable journey to make your dreams come true. Arcady Boutique Cruise offers a blend of elegance and comfort, with 24 cabins offering panoramic views. Hike through enthralling caves, kayak through the crystal-clear waters of Trong Cave to Trinh Nu Cave, and visit tranquil pearl farms in Tung Sau Cave. Whether you're traveling alone, with family, or with friends, our ship has something special in store for you.Step aboard to discover your personal paradise of endless vistas, untouched locations, and unrivaled service.
Join us on an extraordinary journey - book your cruise today!
Hightlights
✅ Cover famous sightseeings in Halong Bay: Titov Island, Sung Sot Cave, Luon Cave
✅ The only Budget Cruise with private balcony cabins
✅ Newly built Cruise
FULL PHOTOS | ROUTE MAP |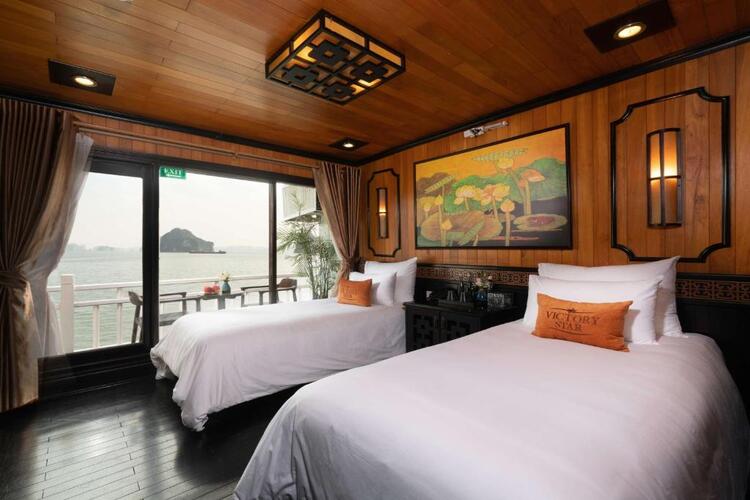 DAY 1 HA NOI – HALONG INTERNATIONAL PORT – TUNG SAU PEARL FARM – TITOP ISLAND
Things to do: Kayaking , Swimming, Romantic Dinning, Cooking Class, Visiting

08:15 - 9:00 - Hotel Pick-Up
Our English-speaking tour guide will pick up guests from various hotels in Hanoi's Old Quarter between 08:15AM and 09:00AM. We try to make the pick-ups as timely as possible, but with morning traffic in the Old Quarter and many hotels to collect from, this time is only an estimate. Please be prepared to assist in expediting this process.
10:30 - 10:45 - Short restroom break
Before we get back on the road and finish the drive, we'll make a quick rest stop halfway to stretch your legs, use the restroom, or grab a quick snack in case you missed breakfast (our driver appreciates a coffee break as well!).
13:15 - On Board Lunch
The cruise departs from Halong International Port on a joyous journey to discover the beauty of Ha Long Bay, a UNESCO World Heritage Site. You will have the opportunity to pass through the grandeur of the legendary bay with thousands of limestone islands such as Dog Rock, Duck Rock, and Thumb Rock - a beautiful limestone islet rising from sea water in the shape of a giant thumb. Thumb Rock was placed here by Mother Nature to send a message of goodwill to all passengers cruising in the ancient bay.
Have a large lunch with a variety of dishes including seafood, Vietnamese cuisine, and Western cuisine.
14:30 - Tung Sau District ( Kayaking – Pearl Farm )
Tung Sau Pearl Farm is the most well-known pearl farm in Halong Bay, as well as a charming tourist attraction where visitors can witness and learn the entire process of making pearls and extensive pearl products, from the first step of growing to harvesting pearls. The Halong Pearl Join Stock Company owns the pearl farm, which is located in a remote water area surrounded by undulating limestone islands.
Aside from Halong Bay cruises, visiting the pearl farm is a once-in-a-lifetime experience. Visitors will learn about the pearl-making process as well as the characteristics of the colors and shapes of oysters grown in this area. The pearl growing and handicraft system is based on traditional Vietnamese knowledge and Japanese technology. Visitors passing by the jetty will notice the oyster cages growing in the clear blue waters of Halong Bay.
Sporting Events: Swimming, kayaking, and other water activities will allow you to enjoy the green emerald and cool water.
16:00 - Titop Island - Titop Beach - Titop Mountain - Swimming - Hiking Titop Island.
You can climb halfway up the mountain on this small island to get a panoramic view of Ha Long Bay. Looking down from high above provides a wonderful sensation while also providing a spectacular view of every corner of the bay.
Lay on the small white sand beach, go for a swim, or simply relax on the boat in Ha Long Bay. You'll have plenty of time to enjoy the feel of sand between your toes. So, sit back and take in the breathtaking beauty of this natural wonder of the world.
17:00 - Cocktail Party - Sunset in Ha Long - Cooking Class
Cocktail "Ha Long Sunset" with snacks is complimentary. Cocktail reception prior to dinner While the sun begins to set and the sky begins to fill with deep reds, purples, and yellows.
Discover the history of a popular traditional Vietnamese dish. From the fresh ingredients to the preparation method, you can make them yourself. After this informative and entertaining course, you'll be able to make Vietnamese summer rolls in your own kitchen. Your new skills will amaze all of your friends and family at home!
19:30 - On Board Dinner ( Top Deck )
Are you ready for an unforgettable evening?
Dinner on the Top Deck is an unforgettable evening experience. Take advantage of this once-in-a-lifetime opportunity to enjoy spectacular panoramic views of Halong Bay while dining on a course meal prepared by top chefs. Enjoy every moment as our expert staff provides you with the best in hospitality. Soak in the tranquil atmosphere and let us handle the details!
20:30 - Nighttime Entertainment - Happy Hour - Squid Fishing
Board games, card games, Parcheesi, and Karaoke are just a few of the activities available on board.
Happy Hour: Prepare for Happy Hour with our special cruise deal! Enjoy a one-of-a-kind fantastic journey with our unique Happy Hour program, which is available upon check-in!
Join us for our unique activity, The Fantastic Squid Fishing Adventure! And learn how to become a Squid Fisher!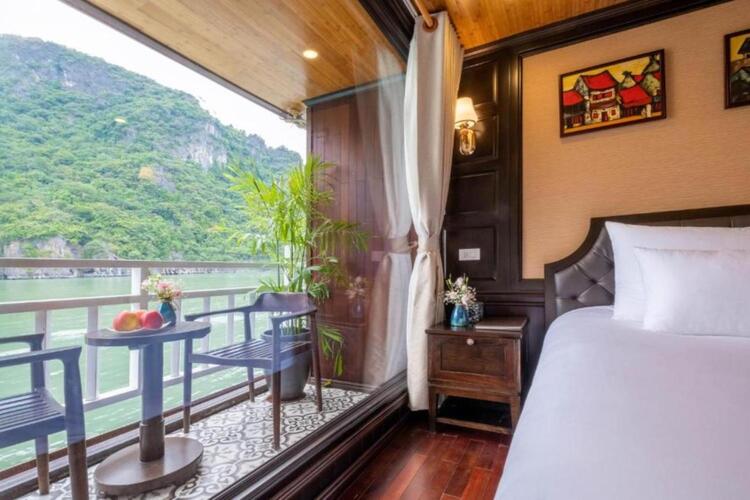 DAY 2 SURPRISING CAVE – HALONG INTERNATIONAL PORT - HANOI
Things to do: Tai Chi, Explore Caves

Begin your morning with Tai chi!
7:00 a.m. - Light breakfast
Breakfast on board will help you recharge your batteries. Coffee. In the restaurant, tea and pastries are served.
07:30 - Visit Surprising Cave ( Amazing Cave – Sung Sot Cave )
Stop at the island of Bo Hon. Our tour guide will take you to Sung Sot Cave/Surprising Cave, Halong Bay's largest and most beautiful cave. The cave entrance appears after about 200 steps under the forest canopy. A paradise will appear before you. You'll find the cave in about 45 minutes before returning to the cruise.
9:15 - Check out
Support the Arcady Boutique Cruise during the checkout process! Begin your cruise towards the Port.
09:30 - Brunch and Unwind
Enjoy an International Buffet Brunch is served in the Dining Room as the cruise returns to Halong International Port!
11:00 a.m. - Disembarkation - Bus
We return to the harbor, board the buses, and speed down the highway. Back to Hanoi after a quick stop halfway.
15:00 - Hotel Departure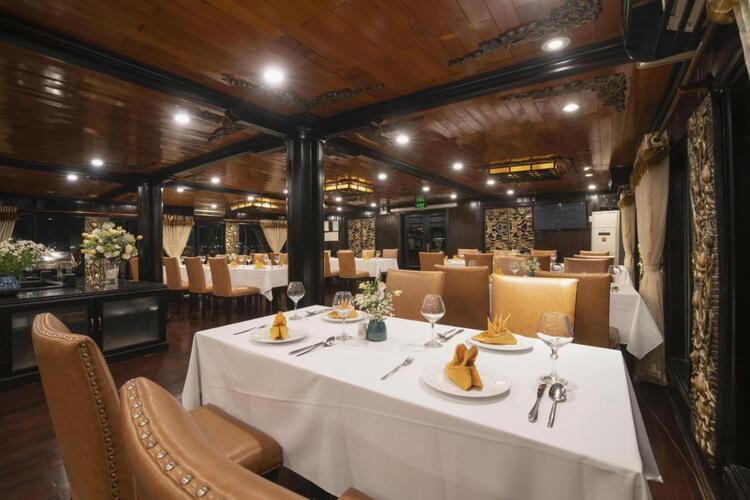 Inclusion
Inclusion:
✅ All meals on board
✅ Private Cabin on board with Balcony
✅ All entrance tickets & fee
✅ All activities on board
✅ Kayaking & swimming

Exclusion:
❌ Limousine transfer round trip - Hanoi - Lan Ha - Hanoi
❌ Surcharge during holiday
❌ Spa
❌ Tips
❌ Personal expense
Cancellation Policy
1. Cancel by customer
- More than 5 days prior to arrival: complimentary
- 5 to 3 days before to arrival: 50% of the total rate.
- Less than 3 days before to arrival: full rate.
- No-show: 100 percent of total rate.
*Refund will be issued within 7 business days

2. Cancellation due to inclement weather:
- In the event of inclement weather, the Management Board of Halong Bay will determine the morning of departure whether a cancellation is necessary. If such a cancellation is necessary, we will provide alternative travel arrangements or a full refund in accordance with the cruise policy.

3. Child Policy
- Child from 0 - 4 Years old: free of charge. Sharing the same bed with parents
- Child from 5 - 11 years old: 75% charge. Sharing the same bed with parents
- Child above 12 years old: 100% charge. Private Bed (extra Bed) within the same cabin as parents