Hidden deep within the limestone cliffs of Ha Long Bay, Thien Cung Cave, also known as Heaven Palace Grotto, is a beautiful place that draws tourists from all over the world. The Cave is a sight to behold, with its beautiful stalactites and stalagmites, complex rock formations, and fascinating stories about how it was made.
Thien Cung Cave located on Dau Go Island in Halong Bay, Quang Ninh Province; about 4km from the Tuan Chau International Marina. This beautiful cave stretches over an area of 10,000 square meters and features spectacular stalactites and stalagmites formations. The cave's unique structure is thought to have been formed by millions of years of erosion caused by sea waves.
The cave was first found in 1901 by a French explorer, but remained hidden for a long time until 1993, when it was re-discovered by a group of local fishermen looking for shelter during a storm. Since then, it has since become one of the most popular tourist attractions in Halong Bay.
The Legend of Thien Cung Cave
There is a fascinating story that lends mystery to this natural wonder in Vietnam's Ha Long Bay.
Local legend states that the area was the residence of a Dragon King. This King was deeply in love with his queen, May and held lavish parties and weddings for 7 days and 7 nights in the cave. The stalactites and stalagmites had been transformed into glimmering jewels and ornate decorations.
The Dragon King and his queen together raised 100 children after their joyous wedding. According to locals, the Queen used to bathe with her children in three large ponds in Thien Cung Cave. When the kids grew up, Queen May took half of them to other parts of Vietnam to help the locals by establishing villages there, while Dragon King and the other kids stayed behind in Halong to continue watching over and ruling the region.
It is also said that the divine beings who were enchanted by the exquisite splendor of it gave it the name "Thien Cung" which means "Heaven Palace Cave." The legend goes on to describe the cave as a haven for the dragon King and his queen, complete with enchanting music and celestial lights.
Visitors can see remains of this mythical romance through stalactites system which look alike the dragon, thrones, and even figures of the Dragon King and his Queen May. The unusual shapes and formations evoke an otherworldly charm, reinforcing belief in the legend's magical origins.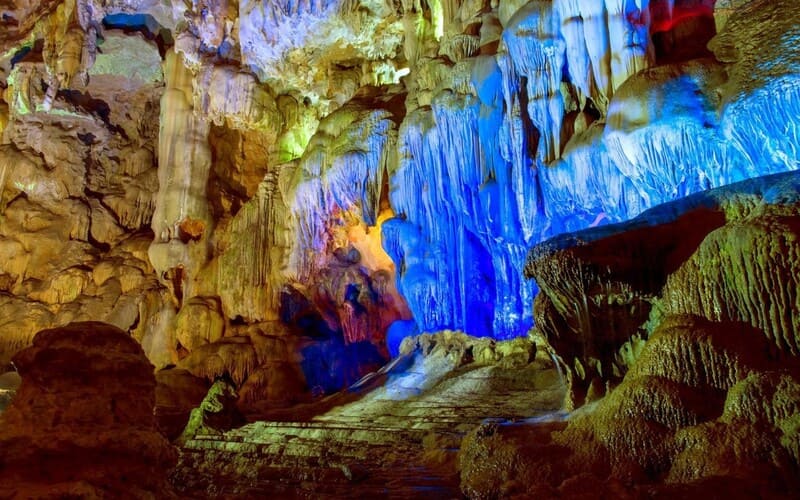 Whether one believes in the legend or not, the ethereal beauty and intricate details found within Thien Cung Cave continue to captivate and inspire awe. The legend adds an intriguing layer to the cave's allure, allowing visitors to delve into a world where myth and nature intertwine in a mesmerizing display of natural artistry.
What's to expect in Thien Cung
Thien Cung Cave offers a multitude of highlights that make it a must-visit destination:
Thien Cung Cave is known for its beautiful stalactites. They form intricate and captivating shapes, such as mythical creatures, towers, and even human figures, making the entire area look like an art museum.
Vast Chambers: The cave boasts spacious chambers with high ceilings, creating a sense of grandeur and allowing visitors to marvel at the scale and beauty of the natural formations.
Spectacular natural Lighting: Natural light enters the cave, creating a unique atmosphere. Ethereal hues are cast across the room, illuminating the stalactites and stalagmites. This adds a magical ambiance to the experience.
Intriguing Legends: This wonder holds inside local legends and folklore, further enhancing its allure. Tales of dragons, fairies, and celestial palaces add an enchanting layer to the exploration.
Panoramic Views: After a set of stairs walking up to Thien Cung, visitors are rewarded with breathtaking views of Halong Bay's picturesque landscape from its entrance, including towering limestone karsts, emerald waters, and surrounding islands.
Cultural Significance: Thien Cung Cave holds cultural significance as it reflects the history and heritage of the region. It serves as a testament to the geological evolution of Halong Bay and the customs and beliefs of the local community.
Explore many more interesting activities in the area with our guide: Best things to do in Halong Bay 2023
Best time to visit
The best time to visit Thien Cung Cave largely depends on your travel preference as it's always beautiful around the years. However, it is generally recommended that you visit during the dry season from October to April.
During this period, visitors can expect clear blue skies and calm waters which provide a great opportunity for cruising around Halong Bay. Additionally, there will be less rainfall which would make it easier to explore the cave without slipping or getting wet. However, keep in mind that Thien Cung Cave can get crowded during peak tourist season so plan accordingly if you want to avoid large crowds.
How to get there
In order to visit this beautiful place, firstly, you'll have to get to Halong Bay. 
From there, you could buy the tickets at Tuan Chau International Port.
Tickets price: 
You'll need to get the ticket for Halong Bay Route 1, which included Thien Cung Cave – Dau Go Island – Dinh Huong Islet – Trong Mai Islet – Cho Da Islet.
The tickets price would be 290,000vnd (~USD13) per person
Renting boat: 150,000vnd/person
Total cost would be around 440,000vnd ~ USD19.
Remember to check the departure times and availability of transportation options when planning your trip. It is advisable to book in advance, especially during peak seasons, to secure your preferred mode of transport.
Extra tips:
Plan an early visit. Arriving at Thien Cung Cave early will help you avoid large crowds and experience a tranquil atmosphere. This allows you to fully appreciate the natural beauty and take your time exploring without feeling rushed.
It is important to dress comfortably when visiting a cave. The paths can be bumpy and slippery. Wear shoes with good traction for safety and ease of movement.
Bring a flashlight when exploring Thien Cung Cave. The cave is already illuminated, but a flashlight can improve your experience. It can help you see better in darker parts of the cave, or examine intricate details of the formations.
Follow the Instructions: Pay attention to any instructions or guidelines provided by the cave authorities or tour guides. This ensures the preservation of the cave's natural beauty and safety for all visitors.
Respect the Environment: Help preserve the cave's ecosystem by refraining from touching or removing any formations, and avoid littering. Let's collectively contribute to the preservation of this natural wonder for future generations to enjoy.
Go further: If your schedule allow, consider visiting Sung Sot Cave, consider to be the largest cave in Halong Bay.
Conclusion
Overall, Thien Cung Cave is a stunning natural wonder that captures the beauty and grandeur of Halong Bay. Its intricate stalactites and stalagmites, along with the gorgeous lake and surrounding landscape, make it an ideal destination for tourists seeking adventure and awe-inspiring sights. Visitors will undoubtedly be taken aback by the cave's scale and unique features.
Whether exploring on foot or by boat, Thien Cung Cave offers a remarkable experience that should not be missed when traveling to Vietnam. So make sure to add this incredible site to your travel itinerary and discover the magic of Thien Cung Cave for yourself!