Halong Bay is a UNESCO World Heritage Site located in the Gulf of Tonkin, Vietnam. It is famous for the towering limestone karsts and islets that rise out of the emerald waters and make a beautiful natural landscape. Being on Halong Bay will give you the opportunity to take in all of the beauty of the bay throughout the day, from sunrise to sunset. Overall, Halong Bay is definitely a must see place for any traveler when it comes to visiting Vietnam.
As a backpacker, you'll need to visit many places on a limited budget. It's not because of this, though, that we have fewer experiences. Choosing a good Halong cruise as a backpacker is crucial because it allows you to cover more destinations within your budget while also providing unique experiences that may not be available through other modes of transportation. Additionally, a good cruise can offer opportunities for socializing with other travelers and making new friends from all over the world. Let us go over a number of options for you to enjoy Halong Bay while still keeping your wallet in good shape. Let's explore our best Halong Bay cruises for backpacker collections and why you should choose one. 
Why choosing a Halong Bay cruise for backpackers
Planning a trip as a backpacker will be quite a challenge due to tight budget, especially at a famous destination like Halong Bay. The bay is drawing thousands of tourists every years and of course it would cost quiet a lot when visiting there. That's when you need a to looking for a saving travel option while still able to seeing the most out of this beautiful bay. Halong Bay Cruises for backpackers are the best options for you. These cruises are the most perfect balance mix between a beautiful journey and saving budget.Most things are typically included in a cruise package, including transportation from Hanoi to Halong Bay and back. 
On a backpacker-friendly Halong Bay cruise, you can socialize with other travelers because there will be plenty of partying on board, which is what being a backpacker is all about! Halong Bay cruise for backpackers offers the chance to explore the breathtaking scenery of the bay, visit nearby fishing villages, and engage in water sports like kayaking and swimming in addition to partying and making friends. It's a wonderful way to get to know other international travelers and enjoy Vietnam's natural beauty.
How much does these cruises cost? 
The prices for backpacker-friendly cruises in Halong Bay are generally reasonable. Its range from 35USD to 150USD per person, depending on your itinerary selection. A day cruise costs between $35 and $50, while a one-night cruise can cost up to $130. Spending two nights on a Castaway Island may increase the budget by up to $150 USD, but it covers most of everything on board, from meals, transfer, entrance tickets and private cabins. Consider accommodation, meals, and activities you may have to spend if you do not visit Halong Bay; the cost is not sound so expensive.
Duration
There's 3 most popular schedule for backpackers when it's come to visit Halong Bay. 1 day cruise, 2 days 1 night cruise or 2 nights on CastAway Island.
With 1 day cruise, you'll in a quite in a hurry. Get picked up on the morning and take you 3 hours to get to Halong Bay. You then will have 6 hours to cover the whole Bay. During the 6 hours, you can enjoy activities such as kayaking, visiting a floating village, and exploring limestone caves. After that, you will head back to the harbour and return to Hanoi in the evening.
It's unquestionably a better option than day tours. With the exception of the total 6 hours of travel back and forth, you will now be able to fully enjoy the bay in one day. Spending the night on a boat in the middle of the bay would be an unforgettable experience, especially if you can get deeper into the area and enjoy both the beginning and end of the day.
2 Nights on a Castaway Island
2 nights on a private, isolated island will provide you with a full Halong Bay experience, including tons of activities and the chance to explore Halong Bay's rural side. Waking up on a desert island after a wild party night or climbing rock mountains are just a few of the activities on this schedule.
Top budget Halong Bay Cruises
Le Journey Cruise

Destination: Halong Bay – Sung Sot Cave – Ti Top Island

April Promotion – Only from $110/person

From:

$

110

Crown Legend Cruise

Destination: Halong Bay – Sung Sot Cave – Ti Top Island

Private Balcony in all rooms

From:

$

105

Cozy Bay Cruise Halong Bay

Destination: Halong Bay –  Sung Sot Cave –  Ti Top Island

Summer Promotion – Only $110USD/person

From:

$

110
Activities
Kayaking
Kayaking on Halong Bay is a unique experience that allows you to explore the hidden corners of the bay and get up close with the limestone cliffs and islands. It's a great way to immerse yourself in the natural beauty of Halong Bay and create unforgettable memories.
Swimming
What better way to spend a hot summer day than swimming in crystal clear water and relaxing on a beach while drinking coconut? Nothing. Jump into the water from the cruise will quickly wash away all your worries.
Partying
One of the thing you should not missed while travelling on a backpacker Halong Bay Cruise is party! Let's rock the night by drinking game or dancing along with beat!
Spend the night on a desert island
"Castaway Island"is the most highlight of Halong Bay cruises for backpackers. It's a complete private area rented by tour operators only for backpacker where you're free to sing as loud as possible without bothering relaxing-seeker tourist. The island offers a unique opportunity to disconnect from the hustle and bustle of city life and immerse yourself in nature, with stunning views of the starry night sky and the sound of waves lulling you to sleep. It's an unforgettable experience that will leave you feeling refreshed and rejuvenated.
Best Halong Bay Cruises for Backpackers Recommendations
Overnight Cruises
Oasis Party Cruise
The Oasis Party is well-known to be the only 5 star cruise for Backpackers . The cruise was built in 2018 with a modern designed and equipped with three jacuzzi, a water trampoline, a dance floor, luxury restaurant and well stocked bar. Besides the standard activities like kayaking, swimming,…you might join an unforgettable Karaoke night or become a rap star on their in-door stage.
Oasis Party Cruise will a less touristy and quiet route – Lan Ha Bay. With 2 days 1 nights, it will cover Frog Pond, Tra Bau area or Dark and Bright Cave. However, what's set this cruise apart from others is their 3 days 2 nights itinerary. With 2 nights on board, you'll not just tight yourself on the cruise but will stay overnight on Freedom Island, a private dessert Island in Lan Ha Bay with many activities like climbing, drinking game, or sport beaches. 
With all the features above, Oasis Party Cruise deserve to be the best Halong Bay cruises for Backpackers. 
Style: Party Cruise
Itinerary: 2 days 1 nights, 3 days 2 nights
Cost: 120USD to 150USD per person
Booze Party Cruise
Booze Party is the newest Halong Bay Party Cruise with everything you need to "stay up all night". The cruise are well equipped with a performance stage, DJ table, trampoline and lively sound system through out the boat. Not only that, Booze Party Halong Bay Cruise offer super budget friendly budget, with only start from 86USD/person for a dorm room. It's definitely a beautiful mixture of budget balance & lively activities!
Style: Party Cruise
Itinerary: 2 days 1 nights, 3 days 2 nights
Cost: From 86USD (Check rate)
Le Journey Cruise
Le Journey is a boutique wooden junk boat with only 15 cabins on board. It's offer much a calmer comparing to others  backpacker friendly-cruises. Thanks to the decent size and number of cabins, the cruise is offer a quiet with maximum privacy on board.
With a range of activities and excursions included, guests can relax and enjoy the beautiful surroundings while also learning about the local culture and history.
Style: Budget Cruise
Itinerary: 2 days 1 night, 3 days 2 nights
Cost: 110USD pp (Check rate)
Crown Legend Cruise
Crown Legend Cruise (formerly known as Huong Hai Sealife) used to be a 5 stars cruise in Halong. It's the one and only cheap Halong Bay Cruise now offer a private balcony in all type of cabins, stable and spacious metal boat to ensure a smoothly journey on the Bay. The cruise offers a variety of activities such as kayaking, squid fishing, and Tai Chi classes. Guests can also enjoy delicious Vietnamese cuisine on board.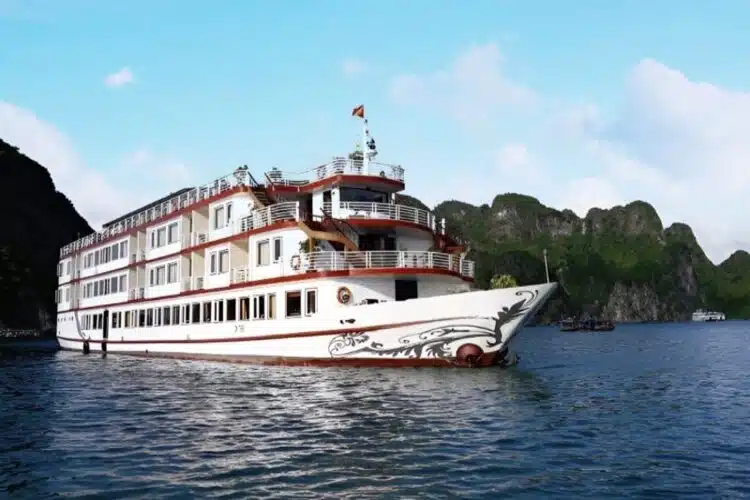 Style: Budget Cruise
Itinerary: 2 days 1 night, 3 days 2 nights
Cost: 105USD per person (Check rate)
Day Cruises 
Halong Excursion Cruise 1 day
A junk small day boat with a capacity of only 50 people. Despite the fact that the cruise itinerary is only one day, it covers most of the famous places in Halong Bay, including Sung Sot Cave, Titov Island, a part of Cat Ba Island, and many more.
Itinerary: 1 day
Cost: 43USD pp
Alova Day Cruise
Built in metal with capacity of around 70 people, Alova Cruise is operating by Go Asia Travel, a reputable company in Hanoi for a long time. Alova Day Cruise offers a comfortable and enjoyable experience with English-speaking tour guides, delicious meals, and exciting activities such as kayaking and swimming. It is a great option for those who have limited time but still want to explore the beauty of Halong Bay.
Itinerary: 1 day
Rate: 51USD/pp
Conclusion
Halong Bay is a UNESCO World Heritage Site in Vietnam with stunning limestone karsts and islets, and a good cruise for backpackers offers the chance to explore the breathtaking scenery, visit nearby fishing villages, and engage in water sports – all with a saving budget. Let's hop on one of them and have your best backpacker time!
If you are still unsure about which cruise or itinerary to take, please contact us right away for more information.