Bai Tu Long Bay is a hidden gem located in the Gulf of Tonkin, northeast of Vietnam. Often overshadowed by its more famous neighbor Halong Bay, Bai Tu Long Bay boasts stunning landscapes and a tranquil atmosphere that make it an ideal destination for those seeking a secluded getaway. With its crystal-clear waters, towering limestone pillars, and lush greenery, Bai Tu Long Bay offers visitors breathtaking views and endless opportunities for relaxation and adventure.
In this article, we will delve into the beauty and wonder of Bai Tu Long Bay. We'll explore its history, beauty, attractions and so on to give you a comprehensive guide to this incredible destination.
Located in the Gulf of Tonkin, it is part of the larger Halong Bay region and is situated to the northeast of its more famous neighbor. Bai Tu Long Bay stretches over an area of approximately 153 square kilometers, comprising a cluster of islands, limestone cliffs, and numerous small bays.
Is Halong Bay and Bai Tu Long Bay the same? 

 

Halong Bay and Bai Tu Long Bay are two popular destinations located in the Quang Ninh Province of Vietnam. These two bays are often compared to each other, but are they really the same? The answer is no. Although they share similar landscapes and features, Halong Bay and Bai Tu Long Bay have distinct differences that set them apart.

Ha long Bay is a UNESCO World Heritage Site famous for its towering limestone karsts, emerald-green waters, and floating villages. It is also one of the most visited tourist spots in Vietnam due to its accessibility from Hanoi city. On the other hand, Bai Tu Long Bay is a less crowded destination with more pristine waters and untouched islands scattered across a larger area.
Mystery behind the name Bai Tu Long
Bai Tu Long Bay is located in the northeastern region of Vietnam and has become one of the country's most popular tourist destinations. Its history dates back to as early as the prehistoric age, with evidence of human habitation found on its islands and caves. The bay was named by locals after a legend involving a mother dragon who had lost her child in the area.
Back centuries ago, when Vietnam still fought against invaders, the Jade Emperor sent Mother Dragon and her son to earth to help the Vietnamese. When the enemy battle ship attacked, Mother Dragon released lots of pearls from her mouth, which later became islands and islets to block the ships. The enemy fleet quickly crashed into these islands and islets and sank into the sea. After helping the Vietnamese win the war, Mother Dragon and her son decided not to come back but stayed in the area. The area where Mother Dragon lands is called Ha Long Bay (which means the bay where Dragon descends), and the area where her son lands is Bai Tu Long Bay (which means bowing down to show respect to Dragon's children).
Not just the legend, but Bai Tu Long Bay also played a significant role in Vietnam's history. During the 13th century, Bai Tu Long Bay served as a strategic location for naval battles against Mongol invasions. It also became a major trading port during this time, connecting Vietnam with other countries such as China and Japan.
In modern times, Bai Tu Long Bay has gained recognition for its stunning natural beauty and unique ecosystem.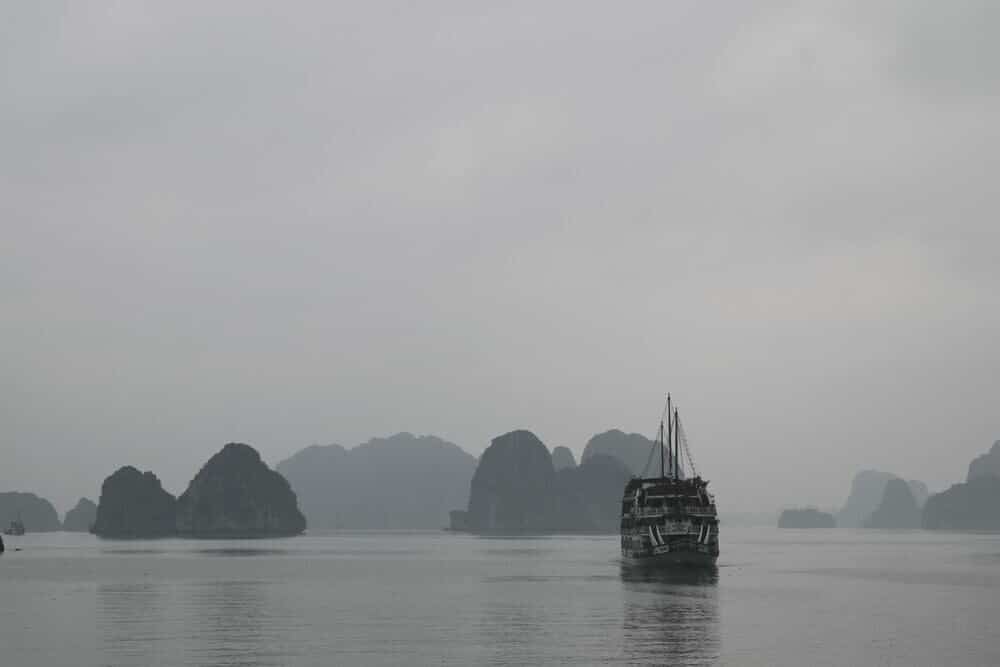 The Beauty of Bai Tu Long Bay
Although Bai Tu Long Bay is not as well-known as its famous neighbor, Ha Long Bay, it is just as beautiful and pure. Bai Tu Long Bay, located in northern Vietnam, is a hidden gem with towering limestone cliffs, fascinating caves, crystal-clear waters, and picturesque fishing towns.
Bai Tu Long Bay's towering limestone formations, which are dispersed throughout the region, are one of its most notable features. These rocks' rough edges are what make them so unique and breathtaking. The Bay is home to hundreds of unique islands and limestone islets, including Poem Mountain, Frog Islet, Turtle Islet, Thien Canh Son Cave, and others. Visitors can join a cruise excursion to see these amazing limestones up close and admire their beauty. The shapes vary widely, with some looking like gigantic pillars and others like massive caves or cliffs.
Other highlights of  visiting Bai Tu Long Bay include the unspoiled beaches. The majority of the beaches in this area are calmer than those in Halong Bay, but that doesn't make them any less gorgeous. The bay is home to several lovely beaches with crystal-clear waves, smooth white sand, and lush greenery. These beaches are ideal for swimming or sunbathing while reading a book or soaking up some Vitamin D. Some of the most well-known beaches are Ban Chan Beach, Tra Gioi Beach, Minh Chau Beach, and so on.
Aside from its natural beauty, Bai Tu Long Bay is well known for its diverse seafood offerings. A dining experience in Bai Tu Long Bay would be memorable, from their specialty Sa Sung (peanut worm) to more common treats such as lobsters, Song fish, snails, and so on.
Bai Tu Long Bay Attractions
Ban Chan Beach is a picturesque and secluded beach located in the Bai Tu Long Bay area of Vietnam. Its pristine beauty and crystal-clear waters have made it a popular destination for tourists and locals alike. The sandy shores are surrounded by towering limestone cliffs, creating a breathtaking backdrop for sunbathing, swimming, and relaxing. Unlike other beaches in the region, Ban Chan remains relatively untouched by commercialization. Visitors can enjoy the natural setting without being subjected to loud music or crowds. The beach itself is small and secluded, making it the perfect destination for those who crave peace and quiet. The calm waters make it ideal for swimming or snorkeling, while sunbathers can relax on the soft sands. If you're feeling adventurous, there are also kayaks available to rent so you can explore the surrounding scenery from a different perspective.
Thien Canh Son Cave
Discovered in 2010 by a local fisherman named Hoang Van Thong, Thien Canh Son Cave has since become one of the most famous attractions in Bai Tu Long Bay. Thien Canh Son Cave is known for its unique stalactites and stalagmites that have formed over millions of years. Inside the cave, visitors can observe these impressive formations as well as underground waterfalls and small ponds. Light streams into the caverns from above, illuminating the colorful rocks and giving visitors an otherworldly experience. Not only that, Thien Canh Son also offers guests a panoramic view of the bay from its viewpoint, which is located right outside of the cave.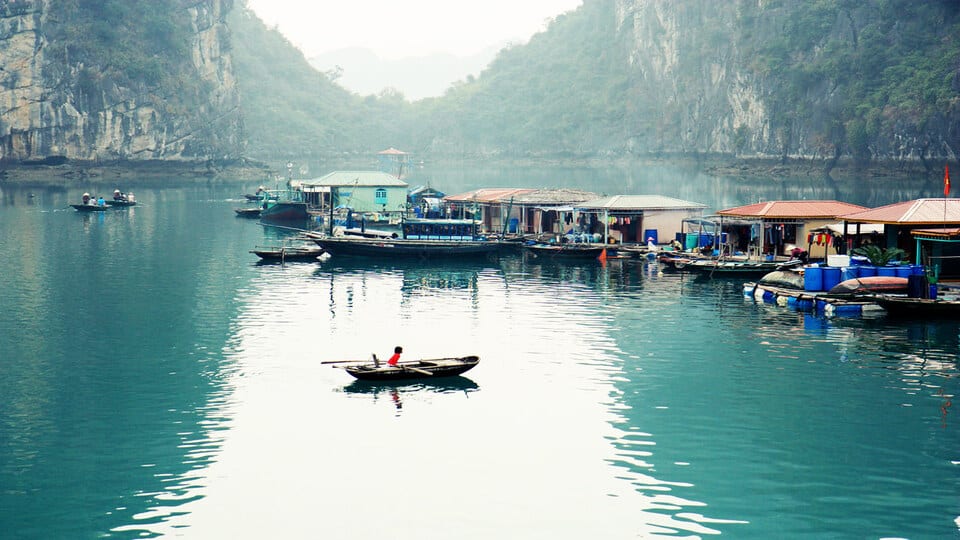 Vung Vieng Fishing Village
Vung Vieng Fishing Village is located on the edge of Bai Tu Long Bay, just a short boat ride away from Halong Bay. The village offers visitors an insight into the daily lives of 50 fishermen's families, who have lived in the area for generations. The village itself consists of floating houses that are built on stilts above the water, creating a unique and stunning sight. Visitors can take a leisurely boat ride around Vung Vieng Village to admire its beauty and learn about its history as well as traditional fishing methods that have been passed down through generations. You might even be lucky enough to catch a glimpse of some rare species, such as dugongs or sea turtles, when exploring this charming fishing village.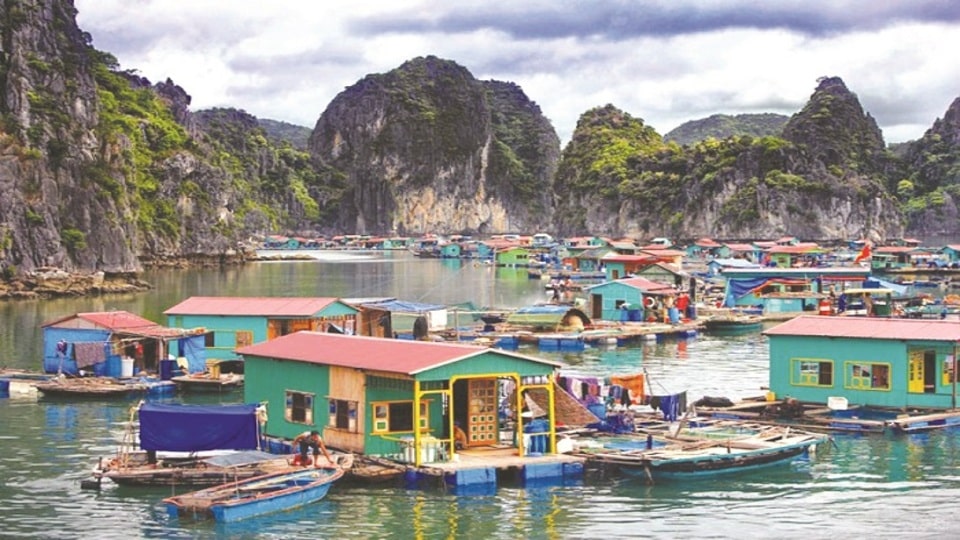 Cong Dam Fishing Village
Cong Dam Fishing Village is a hidden gem located in Bai Tu Long Bay, Vietnam. This village is still untouched by mass tourism and offers visitors a unique opportunity to experience traditional Vietnamese fishing culture. Cong Dam Village boasts a rich history that dates back 340 years. Visitors can learn about the traditional fishing techniques used by the 120 villagers living there, such as net casting and fish trap construction. During their stay, guests can also participate in cultural activities such as bamboo boat rides and cooking classes featuring local cuisine.
Bai Tu Long National Park
Bai Tu Long National Park is one of Vietnam's most beautiful natural attractions. Located in the northeastern region of the country, this national park covers an area of 15,785 hectares, with 6.125 ha of island land and 9.658 ha of tidal land, and boasts a diverse range of flora and fauna. The park is home to numerous species of plants and animals that are endemic to the region. The terrain of Bai Tu Long National Park is characterized by limestone mountains, dense forests, caves, and waterfalls. The park has several hiking trails for visitors to explore these unique features. One popular trail takes hikers through a forested area where they can see rare bird species like hornbills and pheasants. Another trail leads to a waterfall, where visitors can take a refreshing dip in the cool waters after a long hike.
Quan Lan Island
Quan Lan Island is one of the most beautiful islands in Vietnam, located in Bai Tu Long Bay. The island has many attractions which worth visiting. The most popular places to visit is Quan Lan Pagoda, an ancient Buddhist temple that dates back to the 18th century. Another must-see attraction is Minh Chau Beach, which is known for its stunning white sand and clear blue water. There are also several other beaches on the island that are worth visiting, such as Son Hao Beach and Quan Lan Beach.
Things to do in Bai Tu Long Bay
Taking a cruise
Known for its stunning limestone cliffs, emerald-green waters, and thousands of small islands, Bai Tu Long Bay is a must-see attraction when visiting Vietnam. While there are plenty of things to do when exploring this beautiful location, one activity that should not be missed is taking a cruise.
Cruising through Bai Tu Long Bay is an experience like no other. As you glide through the calm waters, you'll be surrounded by towering cliffs and lush, forested islands as far as the eye can see. The peacefulness of the bay will leave you feeling relaxed and rejuvenated, providing the perfect escape from the hustle and bustle of everyday life.
One of the highlights of taking a cruise in Bai Tu Long Bay is that there are many activities and attractions that could be covered in a trip, such as kayaking, swimming, visiting a fishing village, and so on.
Besides, an overnight on board in the middle of the bay would also be a memorable experience. Below are some recommendations from us for an overnight cruise in Bai Tu Long Bay:
[wptb id=3693]

Kayaking
Kayaking in Bai Tu Long Bay provides a perfect opportunity to escape the hustle and bustle of city life and immerse yourself in nature's tranquility. The bay's calm waters are ideal for kayakers of all levels, from beginners to experienced paddlers.
With a kayak, you can access places that are otherwise inaccessible by larger boats or on foot. You can paddle through narrow channels between towering limestone cliffs or explore hidden lagoons surrounded by lush greenery—experiences that will leave you mesmerized.
Visiting a fishing village
One of the highlights of any trip to Bai Tu Long Bay is visiting one of the local fishing villages.
These villages are built on stilts over the water and have been home to generations of fishermen who make their living from the sea. Visitors can take a boat tour through the village and learn about daily life in this unique community. You'll see locals going about their day-to-day routines, such as mending nets or preparing fresh seafood for the market.
The weather in Bai Tu Long Bay varies throughout the year, with distinct seasons bringing different temperatures and weather patterns. The dry season runs from November to April when temperatures are cooler and rainfall is minimal. The skies are clear and sunny, perfect for exploring the outdoors. The average temparature is from 16°C to 26°C with little rain. November to April could also be considerred as the peak season in Bai Tu Long Bay.
The wet season begins in May and lasts until October when humidity levels increase, and rainfall becomes more frequent. It's getting quite hot and the highest temparature might go up to 35°C, making the heat become more hard to deal with. Besides, the bay also expect some typhoon during this time. Despite this, many travelers still opt to visit during this time as it can be cheaper and less crowded than peak season.
As Halong Bay and Bai Tu Long Bay are sharing same climate and temparature patterns, taking a look at our detailed guide about weather in Halong Bay for further information.
Best time to visit Bai Tu long Bay
The best time to visit Bai Tu Long Bay is from Feb to April when the weather is dry and mild. During this period, the temperature ranges between 16°C to 28°C making it perfect for outdoor activities like beach hopping, cave exploration or island hopping. Moreover, during these months the sea remains calm allowing visitors to enjoy water sports without any issues.
If you're looking for a quieter experience at Bai Tu Long Bay then consider traveling during the shoulder season from Sep to Oct as there will be fewer tourists around.
There're many way to get to Bai Tu Long Bay. 
From Hanoi to get to Bai Tu Long Bay, you'll need to start with a trip to Halong City by some means of transportaion as below:
By Bus/Limousine: It's the most popular way. The Journey taking around 3 hours, with pick up and drop off at your hotels in both places. The rate for 1 way might be about 12 to 15USD. 
By Seaplane: It't kind of an expensive way to travel, however it would well worth the money as you could see the whole beautiful of the bay from above. Please reference Hai Au Aviation for rates and schedules.
By Cruises: There're so many cruises to Bai Tu Long start from Hanoi. They offering a whole package including transportation to Bai Tu Long Bay and cruising in the Bay as well. You might between a day cruise or an overnight cruise, depending on your schedule. 
Best Bai Tu Long Bay Cruises