Ba Trai Dao Beach is located in Lan Ha Bay, Vietnam. It is known for its crystal-clear turquoise waters and stunning scenery, making it a popular destination for tourists and locals alike. The name "Ba Trai Dao" translates to "Three Peaches," which refers to the three small islands that resemble peaches and are found near the beach.
Because of its geography, the beach only available for 3 hours during the day, making it remains relatively untouched by commercialization and development. Visitors can enjoy a peaceful atmosphere as they relax on the soft white sand or take a dip in the refreshing water. The surrounding cliffs offer breathtaking views of Lan Ha Bay, while activities such as kayaking and snorkeling allow visitors to explore the underwater world.
In this article, let's explore the beauty of this magnificent attractions.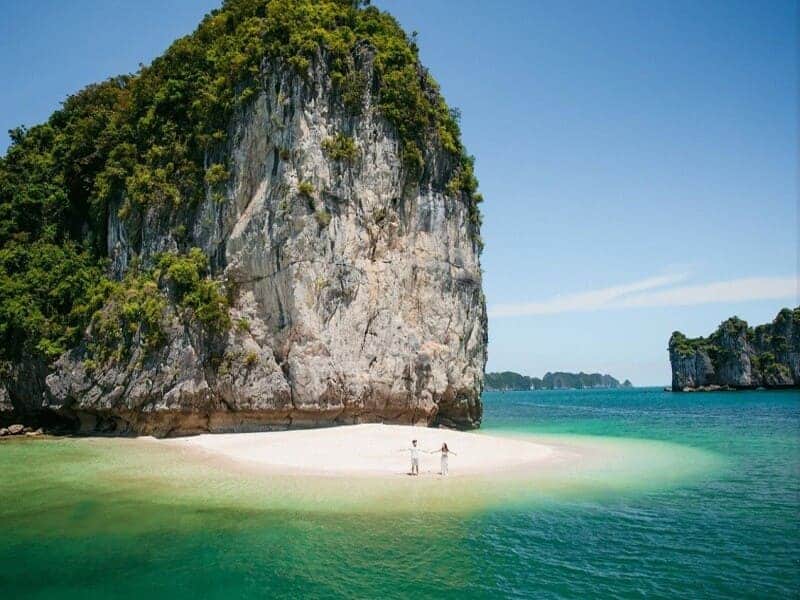 Location 
Ba Trai Dao Beach is one of the most stunning attractions in the Lan Ha Bay area, which is an extension of the famed Halong Bay, Vietnam. It's only around 20.1 kilometers from Bai Chay Tourist Wharf in Quang Ninh Province and 10.7 kilometers from Cat Ba Island in Hai Phong City. Because of its convenient location, visitors may reach this pristine beach from either Hai Phong or Ha long City. The beach can only be reached by boat, adding to its exclusivity and seclusion.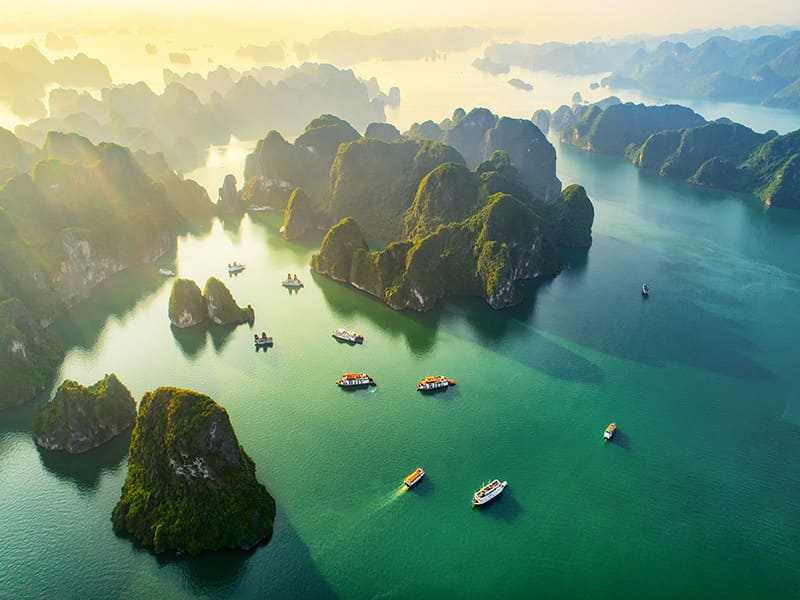 History 
Ba Trai Dao in English means Three Peaches. The beach gets its name from the three rocky islets located near it that resemble three peaches. But is it just that simple? Of course not, there's an interesting legend lying behind it. 
According to local legend, there is a lovely fairy who fell in love with a poor fisherman. Their love is so intense that the fairy stole three peaches from the heaven and give it to the fisherman, wishing he would live an eternal life after eating them. Knowing this, the Jade Emperor became so enraged that he decided to turn the peaches into three massive islets, separating the fairy and the fishermen.
When you arrive, you'll notice three massive islets, each about 23 meters high, that appear to be attempting to protect a peaceful beach from the throngs. Once you've passed it, a world of delights will open up before your eyes, complete with pristine coasts and crystal-clear oceans.
Today, Ba Trai Dao Beach continues to enchant visitors with its natural beauty and stunning surroundings. It is a retreat for individuals seeking refuge in the midst of Halong Bay's breathtaking scenery. The beach's historical significance and natural charm make it a must-see for visitors seeing Vietnam's attractions.
Best time to visit Ba Trai Dao Beach
Ba Trai Dao have a year-round beauty and you could visit at any time. Summer (May to Sep) could be a good option if you're into water activities. During these months, the weather is generally hot with less rainfall and more sunshine, allowing for a more enjoyable beach experience. However, it's better to check the weather in advance cause there're quite a few storms coming during these months, especially on July and August. 
The peak tourist season falls between December and February when the weather is cooler, making it an ideal time to visit if you'd prefer scenery rather than swimming or kayaking. 
The beach is only exposed for 3 hours during the day, while the rest of the time the tide rises and engulfs the entire area. As a results, making sure to confirm with your tour agent before planning.
Top Activities in Ba Trai Dao Beach
Engaging in these activities below will allow you to fully appreciate the natural beauty and serenity of Ba Trai Dao Beach. Whether you seek relaxation, adventure, or exploration, this captivating destination offers something for everyone.
Beach Relaxation and Sunbathing
Indulge in the tranquil beauty of Ba Trai Dao Beach by simply unwinding on its pristine shores. Find a comfortable spot, lay back, and soak up the sun while enjoying the soothing sound of waves crashing against the shore. The soft white sand and clear waters provide an idyllic setting for a peaceful beach experience.
Swimming and Snorkeling
Take a refreshing dip in the crystal-clear waters of Ba Trai Dao Beach. The calm and inviting sea offers an excellent opportunity for swimming. Explore the underwater world by snorkeling, witnessing the vibrant marine life and colorful coral reefs that thrive in these waters.
Kayaking and Canoeing
Rent a kayak or canoe and embark on a thrilling adventure along the picturesque coastline of Ba Trai Dao Beach. Paddle through the calm waters, maneuvering through rock formations and hidden coves. Enjoy the freedom to explore at your own pace, immersing yourself in the breathtaking natural surroundings.
The cost for renting a kayak is about 150,000vnd ( ~7USD) per hour.
Island Hopping and Boat Tours
Join a boat tour or hire a private boat to explore the nearby islands and Ba Trai Dao islets that adorn the waters of Ba Trai Dao Beach. Experience the awe-inspiring beauty of Lan Ha Bay, visit floating fishing villages, and marvel at the limestone karsts that rise majestically from the emerald waters.
Beach Barbecue and Picnicking
Make the most of your time at Ba Trai Dao Beach by enjoying a beachside barbecue or picnic. Pack a delicious meal, set up a cozy spot on the sand, and savor the flavors while surrounded by the captivating coastal scenery.
Sunset Watching
Witness the breathtaking sunset at Ba Trai Dao Beach as the sky transforms into a canvas of vibrant colors. Capture the magical moments as the sun dips below the horizon, casting a golden glow over the serene waters.
More about activities to do in the area: Best things to do in Halong Bay 2023
How to get there
As the beach located between Hai Phong City and Ha Long City, you could get there from any of these cities. Here are the different ways to get there:
On your Own
From Hai Phong
Start your journey from Hanoi, the capital city of Vietnam, by bus or limousine.
Take the National Highway 5B heading east towards Hai Phong City.
Once you reach Hai Phong City, continue on the road until you reach Dinh Vu – Cat Hai Ferry Terminal.
At the ferry terminal, board a ferry to Cat Ba Island. The ferry ride offers picturesque views of the surrounding waters and islands.
Upon reaching Cat Ba Island, make your way to Cat Ba Town, where you'll find the main pier for boat transfers.
From Cat Ba Town, take a boat or speedboat to Ba Trai Dao Beach. The journey along the way is also stunning.
From Halong City
Take bus/limousine to Halong City, Bai Chay Wharf
From Bai Chay Wharf, you'll have to get a private canoe to get to Ba Trai Dao Beach. Discuss with the canoe owner in advance to make sure the beach is available by the time you arrive. 
By Cruise
This is the most common and convenient way to visit Ba Trai Dao Beach.
Many tour operators in Hanoi offer Lan ha Bay cruises which included the beach in their schedules . These cruises typically include transportation from Hanoi to Halong City, cruises, meals, and guided activities. However, most of the cruises offer a visit to this beach only on their 3 days 2 night itinerary.
It's important to note that the exact routes and modes of transportation may vary depending on the tour or transportation service you choose. It's advisable to plan your journey in advance, book your transportation and accommodations, and confirm the schedules and availability to ensure a smooth and enjoyable trip to Ba Trai Dao Beach.
Extra Tips
Plan Ahead: Ba Traior visit within 3 hours in the day. So make arrangements in advance would be better. As the available time changes between seasons, contact with your agent or tour operators for an exact time to plan.
Pack Essentials: Be sure to pack beach essentials such as sunscreen, hats, sunglasses, and lightweight clothing. Additionally, bring a towel, swimwear, and a change of clothes to make the most of your beach visit.
Explore with a Guide: Consider hiring a local guide or joining a guided tour to gain insights into the history, folklore, and natural scenery surrounding Ba Trai Dao Beach. A knowledgeable guide can enhance your experience and provide valuable information.
Respect the Environment: Help preserve the pristine beauty of Ba Trai Dao Beach by respecting the natural surroundings. Dispose of trash properly, avoid littering, and follow designated paths to minimize your impact on the environment.
Stay Hydrated: It's essential to stay hydrated, especially when spending time in the sun and engaging in water activities. Carry a reusable water bottle and ensure you have an adequate supply of drinking water.
Be Mindful of Safety: Pay attention to safety guidelines and signage at the beach. Observe caution when swimming, follow any designated swimming areas, and be aware of currents or any potential hazards.
Capture Memories: Bring a camera or smartphone to capture the breathtaking beauty of Ba Trai Dao Beach. Capture the stunning vistas, sparkling waters, and memorable moments to cherish later.
Conclusions
Ba Trai Dao Beach, in conclusion, is a magical location that will fascinate travelers with its pristine sandy shores and turquoise waters. This beach offers everything for everyone with great swimming opportunities, exciting water sports, and stunning views of the surroundings.
Ba Trai Dao Beach is the ideal choice whether you're wanting to unwind and soak up the sun or go on an adventure-filled vacation. So grab your luggage and travel to this undiscovered treasure in Vietnam for a trip you won't soon forget. Don't pass up the opportunity to visit one of the world's most stunning beaches!