Vietnam is well known for its water-related characteristics. This vital component is closely connected to every aspect of local life. Water can be found almost everywhere in life, including in places like rice fields and rivers where people frequently live. It comes as no surprise, then, that fishing or floating villages are quite common throughout the nation. One of many is the fishing village of Vung Vieng. Vung Vieng Village is a small fishing village situated in Bai Tu Long Bay, an extension area of the well-known Halong Bay. More than 100 families live here and rely on fishing and selling their catch to local farmers for a living. This community has a unique culture and lifestyle, with traditional fishing practices that have been passed down from generation to generation. In this article, we'll give you an detailed guide about this place and what's to expect when visiting Vung Vieng Village.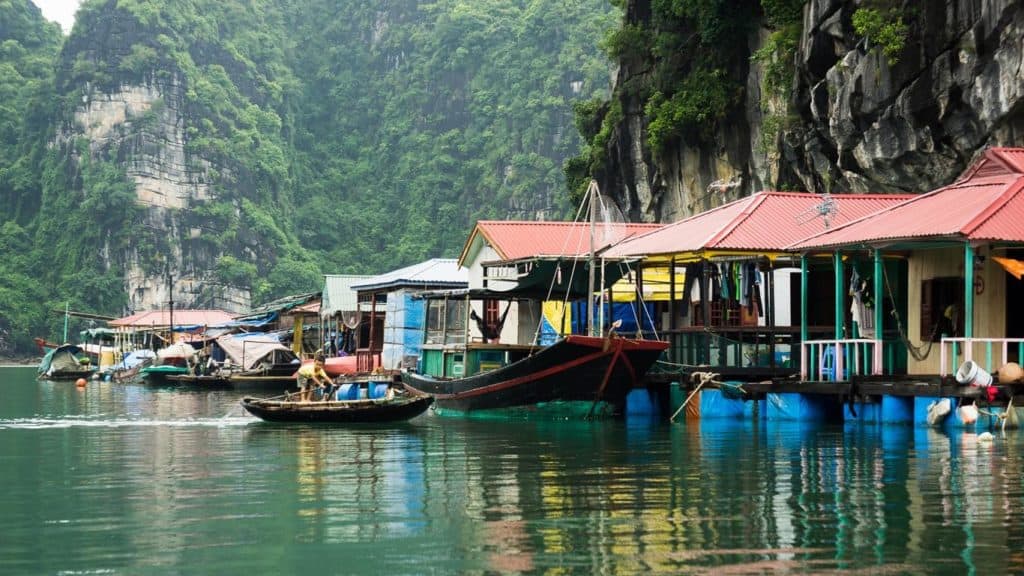 II. Unique things about Vung Vieng Village and why you should visit it
Immerse yourself in nature.
If you need to unwind and feel peaceful, Vung Vieng fishing village is the place to go. Spending time in nature, like floating on a boat while daydreaming of the mountains and feeling the cool sea breeze, will make you feel less tired.
Experience the local life of fishermen in Halong Bay.
Fishermen have been here for a long time, and their culture would be fascinating. There would be amazing things to learn while visiting this small community, from how they catch the fish to how they build floating homes and even manage to live a normal life in the middle of the sea. Despite their remote location and the harsh conditions of life in the sea, fishermen are friendly and eager to share their way of life with outsiders.
Some enterprising locals have set up show workshops to give curious tourists a taste of life in a floating village by allowing them to try their hands at net weaving and fishing. Night tours and squid fishing at night are also available.During these show workshops, visitors get an insight into how the villagers are able to survive in this difficult and isolated environment.
Explore the surroundings
From Vung Vieng Village, you might travel to lots of other interesting places. Tourists can also visit some islands from Vung Vieng's fishing village, such as the Face of the Devil and Bay Gieng, or go swimming at Van Giai or Ngoc Vung's small beaches. Small groups can enjoy the pristine beach. Quan Lan Island, a beautiful island in Quang Ninh, is only about 3 hours away from Vung Vieng.
III. How to get to Vung Vieng
By Limousine
You could take a 2-hour limousine ride from Hanoi to Halong City via the Express Way. Almost all limousines will transport you from your Hanoi hotel to Tuan Chau Port. The first ones begin at 6:30 a.m., and there is one every hour.
To get to Vung Vieng, the most convenient and fastest way is by taking a high-speed ferry from Ha Long Bay, which takes about two hours. You could buy the tickets at the Tuan Chau Pier ticket counter. It would cost around 100,000 VND per person.
By Cruise
Taking an overnight cruise to Halong Bay is the most convenient way to get to Vung Vieng Village. These cruise packages typically take you all the way around Halong Bay, so you'll see more than just Vung Vieng Village. The trip costs between $120 and $170 USD per person and includes everything from on-board activities to four meals, kayaking, swimming, and other activities. With a variety of packages available, from budget-friendly to luxury overnight cruises, these tours provide you with an excellent way to take in the beauty of Halong Bay and Vung Vieng village.
Here's our cruises which cover Vung Vieng Village: https://cruiseinhalongbay.com/cruises/bai-tu-long-bay-cruises
More about Halong Bay transporation: How to get to Halong Bay in 2023