If you ever get the chance to visit Vietnam, then besides Ha Long Bay, another must-see sight nearby is Lan Ha Bay. A hidden gem not often talked about in travel magazines, this area is nestled within the breathtaking landscapes of northern Vietnam. With its emerald-green waters, limestone karsts, and secluded beaches, the site is a lesser-known version of Ha Long Bay … but with its unique charms, as well!
Owing to its less famous status, Lan Ha Bay typically doesn't have a lot of tourists. As such, you'll be entreated to a more peaceful, less crowded experience than Halong Bay.
This all-inclusive guide shows you everything you need to know about Lan Ha Bay and more!
What Is Lan Ha Bay
Where is Lan Ha Bay?
Lan Ha Bay is located in the Gulf of Tonkin, east of Cat Ba Island and sharing the border with the south of Halong Bay. Administratively, Lan Ha Bay is belong to Hai Phong City, a coastal city located about 119.8km from Hanoi Capital, Vietnam. The entire bay has an area of 7000 m2 wide in the southeast of the Cat Ba Archipelago. Lan Ha Bay comprises around 300 karst islands, with the bay's pristine waters coloring a lush emerald in between. The scenery is magnificent enough that it's been featured many times in travel magazines worldwide.
The meaning of the name: "Lan Ha" in English mean a elegant orchid  from Heaven come down to Earth to beautify the area.
What to expect? 
Unlike its more popular counterpart, Halong Bay, this hidden treasure remains relatively undiscovered by mass tourism. So, tourists who have done their research and knowledge of the place will have a much more immersive experience when visiting the site.
Other than the karst islands, visitors also have the opportunity to visit the small, secluded beaches in the area. While they're not large, they're private enough that you'll have a much better time sunbathing or immersing yourself in the crystal-clear water of the archipelago.
Lan Ha Bay is a popular base for tourists exploring the surrounding fishing and floating villages that hold great significance in Halong culture.
One of the top attractions in Viet Hai Fishing Village, where locals graciously welcome visitors to experience their traditional way of life. On these floating habitats are restaurants and even a Town Hall. The site's a must-visit if you want to share the unique way of life in the local community.
And for those fortunate enough, you can have the opportunity to see the bioluminescent plankton in Lan Ha Bay's waters during the night. These plankton light up the water, making them seem like twinkling stars floating in the bay's water!
The Beauty of Lan Ha Bay
Lan Ha Bay is a picturesque destination with numerous rocky islands, such as Hon Guoc, Hon Hai Co, Hon But, Hon Doi, Con Rua, Hon Tai Keo, Hon Bu Nau, and But Day. These islands are surrounded by over 130 golden sandy beaches, providing a delightful environment with cool, blue waters. Each mountain and island in the bay has a unique story of origin.
The bay features dense mountain formations that divide the sea surface into fields, small bays, and hidden caves waiting to be explored. An exceptional highlight of the area is the chance to encounter the Cat Ba Langur, an endemic primate species found only on Cat Ba Island.
Lan Ha Bay offers adventurous activities for visitors, including thrilling rock climbing expeditions that attract foreign tourists. Visitors can experience the adrenaline rush of jumping into the sea below from the top of towering limestone mountains. Canoeing and surfing in the bay provide further opportunities for adventure enthusiasts.
The recognition of Lan Ha Bay's beauty is not limited to local appreciation. The Association of the Most Beautiful Bays in the World nominated Lan Ha Bay as one of the top contenders for its list in 2020.
Lan Ha Bay Attractions
Cat Ba Island is the biggest and most famous of all the islands in Lan Ha Bay. The island is 260 km2 in size and has a diversified ecology, including 1 national park, karst topography, and lush forests. There are also many activities on the island, such as climbing, kayaking, and hiking.
Tra Bau is another well-known destination in the area. Thanks to its unique location, it becomes the anchor point for most of overnight cruises in Lan Ha Bay. Surrounded by massive islets, Tra Bau is stay tranquil and beautiful all year.
Dark & Light Cave in Lan Ha Bay is a combination of 2 different caves with unique feature. While the Dark Cave has a mysterious beauty and is only visible for one month out of the year, the Light Cave is open all year and has spectacular beauty full of natural light.
Viet Hai Village is situated on Cat Ba Island in Lan Ha Bay. The community is home to 70 households who rely mainly on fishing for a living. Viet Hai is well-known for its natural beauty and peaceful atmosphere. During your visit, you will have the opportunity to cycle around the village and immerse yourself in the tranquil beauty of the area.
Things to Do in Lan Ha Bay
Lan Ha Bay has a multitude of activities for visitors to enjoy. Diving and snorkeling in marine waters provide opportunities to explore diverse marine life, including rare coral species. You can spot dolphin pods and bob of seals on your cruises around the bay.
Looking for other activities to do other than sunbathing and cruising? No worries, Lan Ha Bay's got a lot to offer.
Sea Kayaking
Kayaking is said to be the second most popular activity for tourists in Lan Ha Bay, second only to going on a cruise. And if you look at the aerial photo of the bay, you will know why: the open water and the karst formations are ripe for exploration.
But you can't easily explore if you're stuck on a cruise.
That's where small, nimble kayaks come in. You can access places larger tours and cruises may not reach by kayaking around the bay. Plenty of tourist companies offer kayaking trips. But if you want to strike out on your own, there are plenty of kayak rental places on the waterside.
Popular areas for kayakers to explore include Tra Bau area, Ba Ham Lake, Dark & Bright Cave and Ba Trai Dao Island.
Read more: Lan Ha Bay Beach: 7 beaches that you should not missed (2023 updated)
Swimming at White Sandy Beaches
Did you know there are up to 139 beaches in Lan Ha Bay?
Ranging from large to small, these beaches provide visitors with an unparalleled scenic experience. Offering soft, sandy shores and invigoratingly cool waters, they are ideal for swimming enthusiasts.
Of course, you can choose from any of the hundreds of beaches in the area. But there are three standout beaches that have gained popularity among swimmers and beach-goers: Ban Chan Beach, Tiptop Beach, Ba Trai Dao Beach or Ao Ech area. These come highly recommended for those seeking a memorable aquatic adventure.
Explore Cat Ba Island
Cat Ba Island is a must-visit destination that deserves at least a full day in your itinerary. It's renowned for being home to Cat Ba National Park, an impressive UNESCO biosphere reserve. The island's lush forests are a treasure trove of wildlife, making it a paradise for nature enthusiasts. There are also many scenic hikes, and if you're lucky, you'll get a view of the Cat Ba langurs in their natural habitat. These primates — endemic to Cat Ba Island — are among the rarest primates in the world and possibly the rarest in the entirety of Asia.
How rare?
It's said that there are only 70 individuals known to still exist, all of which are on the island!
Guided tours will also include rock climbing, providing an adrenaline rush amidst the island's stunning scenery. Another popular activity is a cycling tour, allowing visitors to explore the island at their own pace.
After a day filled with exploration and adventure, make sure to unwind by enjoying Bia Hoi, a delightful draft beer, at the harbor side.
Visit a Floating Fishing Village
Immerse yourself in the rich cultural heritage of Lan Ha Bay by exploring the historic Cai Beo floating village. Besides its unique location (floating over the water of Lan Ha Bay), the people and the way of life here offer a captivating glimpse into the deep-rooted traditions of Vietnamese who have resided here for centuries.
Nestled amidst the picturesque bay, the villagers have sustained their livelihood by fishing its waters and skillfully navigating around the magnificent limestone mountains. If it's an authentic view of the local culture that you seek, then a visit to Cai Beo floating village is a perfect opportunity.
Chase Sunsets
At the end of every day, filled with adventure, good food, and breathtaking sceneries, wind down with a mesmerizing view of the sun setting over the breathtaking limestone karsts of Lan Ha Bay. You can either do this from the bow of a cruise ship or better yet, on your own in a kayak floating amidst the bay.
The best sunset-watching experience can be had at the Three Peaches Islets. These three small limestone formations resemble peaches when observed from a distance and offer the perfect vantage point to witness the sun's descent.
Notably, the islets feature a distinctive beach with a captivating bow-shaped contour, further adding to the allure of the scenery. As the sun dips below the horizon, the sky is painted with a stunning palette of colors. Combined with the emerald green color of the water and the white limestone formations, the atmosphere becomes truly magical. 
Lots of travelers who have had this experience attested that they couldn't forget the scenery even years later!
Snorkel
Dive into the pristine waters of Lan Ha Bay and snorkel among the abundant marine life and vibrant coral reefs. Considering how the water here has been rated by many tourists and scientists alike as being clearer and less polluted than Halong Bay (and that's already pretty hard to beat!) — you'll have an excellent time snorkeling here in Lan Ha Bay.
Monkey Island, Turtle Island, and Nam Cat Island are ideal spots for this experience.
Caving
Lan Ha Bay is renowned for its captivating karst mountains, but that's only part of the allure of the area. The other part is underground!
The caves in Lan Ha Bay are truly out of this world, boasting astonishing rock formations that will leave you in awe. There are massive stalagmites and stalactites to be seen and photographed.
Among the standout caves in Lan Ha Bay are the Dark and Bright Caves, where you can witness nature's artistic prowess firsthand. These caves offer a remarkable exploration experience with their mysterious ambiance and stunning geological features. 
Another cave worth mentioning is Trung Trang Cave. The formations are just as impressive, and along with its underground passages large enough to fit hundreds of people all at once, the cave offers a memorable adventure for caving enthusiasts.
Island Hopping
Embark on an island-hopping adventure to witness the magic of Lan Ha Bay's soft sandy beaches, rugged limestone cliffs, and hiking opportunities. With nearly 300 islets to explore, consider booking a Lan Ha Bay cruise and spend at least 2-3 days on the water. One day is hardly enough to cover the whole area that, as we said at the beginning of the article, stretches a massive 400 kilometers area.
Want more? Take a look at Top activities to do in Halong Bay  & Lan Ha Bay
Best Time to Visit Lan Ha Bay
For the best weather, the recommended periods are February through April (Spring) and October through December (Fall). During these times, the dry and pleasant climate creates ideal conditions for enjoying activities and sightseeing.
Travelers on a budget may find May to September suitable, as it's the "low tourist" season. Many cruise ships offer significant discounts on cabin prices. The savings may be up to 50% compared to other times of the year.
The area can experience sporadic hurricanes and storms in July and August. As such, you must check the local weather before going. If the weather's bad, reschedule your plans and visit other destinations in northern Vietnam before visiting Lan Ha Bay. These storms typically last for 3-4 days. Once the weather clears up, you can return here.
Cruises won't operate during stormy or hurricane seasons, and you'll miss out on the beauty of the Bay if you visit while it's raining!
As Halong & Lan ha share similar weather patterns, you might reference our detailed guide about best time to visit Halong Bay here: https://cruiseinhalongbay.com/before-you-go/best-time-to-visit/
Getting to Lan Ha Bay
You can take many routes to travel to Lan Ha Bay. It all depends on where you start your journey.
How to Get to Lan Ha Bay from Hanoi
The most common starting point for trips to Lan Ha Bay is from Hanoi, approximately 134 km away. You can travel to Lan Ha Bay from Hanoi by heading to the port city of Hai Phong or Halong City.
The travel time from Hanoi to Hai Phong is around 2 hours, and you have options such as shuttle buses or private cars. Got Pier in Hai Phong is the connection point to Cat Ba Island, the gateway to Lan Ha Bay.
Another route is from Hanoi to Halong City. You can go via shuttle bus or private car to Halong City and Tuan Chau Island via shuttle bus or private car. You can cruise through Halong Bay to reach Lan Ha Bay.
And last but not least, if you arrive at Noi Bai Airport in Hanoi and the next leg of your trip is Lan Ha Bay, you can book a taxi or ride the city bus to the center of Hanoi. From there, plenty of bus lines will get you to the Halong Bay area, where you can book a cruise through the bay and to Lan Ha Bay.
Want more ? Here's our detailed guide of traveling from Hanoi to Lan Ha Bay: Hanoi to Lan Ha Bay: 3 most common ways & tips (2023 Updated)
How to Get to Lan Ha Bay from Cat Bi Airport
Cat Bi International Airport was built specifically to service the Halong Bay area. If you fly from around Vietnam to Cat Bi Airport, you can take a taxi or private car to Got Pier, which takes around 40 minutes. And from there, you can book a cruise to Lan Ha Bay.
This trip is very straightforward and short, thanks to its proximity to the bay.
Top Lan Ha Bay Cruises
Scarlet Pearl
If you're a luxury traveler and aren't shy from spending big to get the most luxurious experiences, then the Scarlet Pearl cruise is for you.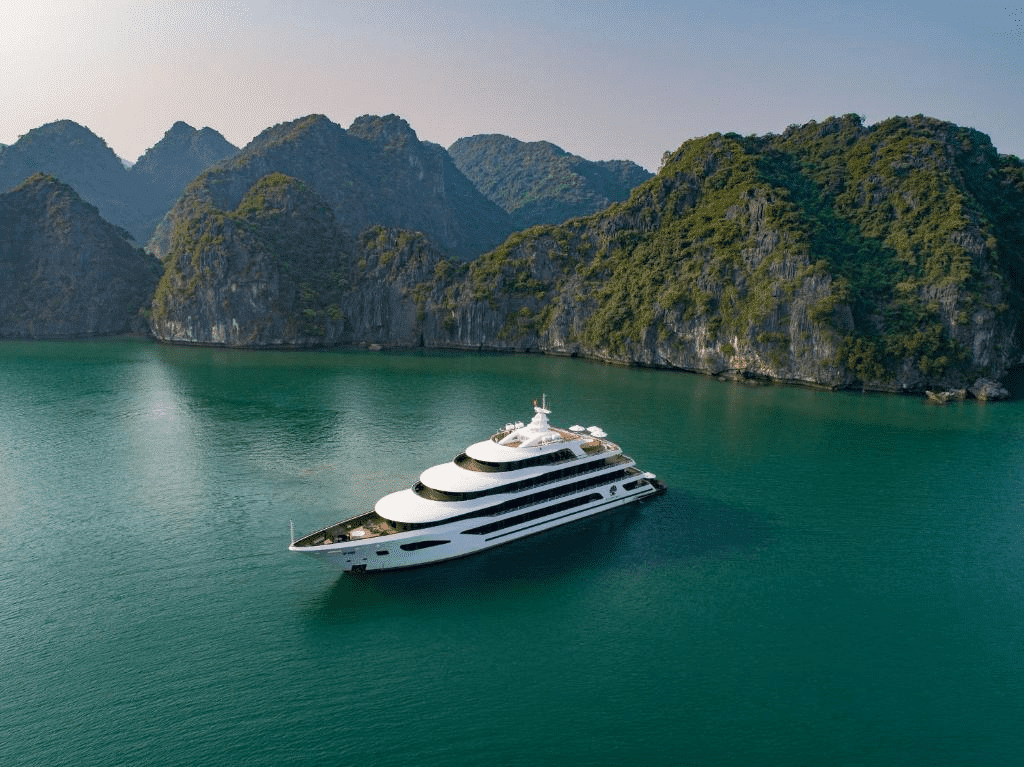 Scarlet Pearl Cruise is a modern and luxurious yacht in the Ha Long Bay area. It is designed like a pearl on a white mussel shell and offers an impressive and stylish Western yacht experience. The yacht provides various room types, including the luxurious 150m2 Presidential room with a 360-degree view of the bay. The facilities onboard, such as restaurants, bars, and spa services, cater to the guests' needs.
Departing from HaLong International Ship Port, the cruise takes guests to Lan Ha Bay and Cat Ba Island.
Along the way, you can enter activities like kayaking and swimming. The cruise will also take you to attractions like Frog Pond, Bright Cave, Dark Cave, and Dau Be Island.
Guests can enjoy different experiences like morning yoga, cooking classes, spa services, and a pearl showroom.
The cruise offers a 2-day, 1-night itinerary and the option to join group tours or rent a sailboat. The departure location is conveniently located in Bai Chay, and guests can reach Scarlet Pearl Cruise by a 15-minute speedboat ride.
The itinerary allows guests to fully experience the beauty of Lan Ha Bay and choose to participate in activities or simply relax and enjoy the surroundings.
Scarlet Pearl Cruise provides a luxurious and classy vacation experience on Lan Ha Bay, with rooms equipped with modern amenities, including air conditioning, a minibar, and private bathrooms.
Rita Cruise
Rita Cruise is a luxurious and modern cruise in Halong Bay inspired by Italian and Indochine styles. With a neo-classical design, the cruise offers a visually impressive experience.
It provides a variety of services, including a bar, fitness center, karaoke, spa, and swimming pool. All rooms have private balconies, allowing guests to observe the beauty of Halong Bay from the comfort of their rooms.
The cruise offers different rooms, such as Triple Suite, Rita Suite, Senior Suite, President Suite, Honeymoon Suite, and Family Suite, catering to different group sizes. Guests can choose from various Asian and Western cuisine options during their cruise.
The itinerary includes activities like Tai Chi, breakfast with a panoramic view, exploring Van Boi Beach, cycling at Viet Hai village, and enjoying a sunset party.
The next day, guests can join Tai Chi sessions, explore Dark & Bright Cave, and enjoy the beautiful views of the Bay. The cruise concludes with a return to Tuan Chau Harbor and a journey back to Hanoi.
Our Selected Lan Ha Bay Cruises collections: 
Dragon Bay Cruise

Destination : Lan Ha Bay – Halong Bay – Dark & Bright Cave

Private Balcony in all cabins

From:

$

118

Rita Cruise

Destination: Lan Ha Bay – Halong Bay – Cat Ba Island

Free Kayaking, Private Balcony

From:

$

145

Scarlet Pearl Cruise

Destination: Halong – Lan Ha Bay –  Dark & Bright Cave

Superb Early Bird Promotion – Only $165/person

From:

$

165
Conclusion
Overall, Lan Ha Bay is a destination that promises a magical time no matter what time of the year it is. With the right cruise and tour, you'll remember your time frolicking among the white karsts and the emerald water of the bay for years to come!
FAQs
What's the Weather like in Lan Ha Bay?
Lan Ha Bay enjoys delightful weather throughout the year, with temperatures typically ranging between 25 and 28 degrees Celsius. There isn't extreme cold or extreme heat to be had in the bay so that visitors will be comfortable year-round.
It's one of the many reasons why the area is so popular for tourists (aside from the sight): cool breezes and fresh air, it's the ultimate holiday experience!
As a part of tropical North Vietnam, Lan Ha Bay experiences distinct seasonal variations.
Spring (February – April) is the most popular season for tourists. The temperature is mild, with lots of sunshine. The skies are clear on most days. Despite occasional drizzles, this period offers great weather for sailing and engaging in water activities (which is the best part of a trip to Lan Ha Bay, to begin with!)
Summer (May – September) is the peak season for domestic travel. With rising temperatures and ample sunshine, it is perfect for sunbathing, swimming, and exploring caves through kayaking. However, sporadic showers and thunderstorms can occur, so keep that in mind while you're planning your trip.
Autumn (October – November) is ideal for foreign visitors, offering minimal rain and clear skies. It is a great time for sightseeing, kayaking, trekking, and enjoying the serene surroundings and seafood.
Winter (December – January) welcomes tourists to Lan Ha Bay, too. Although the weather's a bit colder, the tropical environment makes winters more comfortable compared to other countries. Do note that December can bring a lot of fog to the area, which can make sightseeing a problem.
Below is our detailed article about Halong Bay/Lan Ha Bay weather:
https://cruiseinhalongbay.com/before-you-go/best-time-to-visit/
Is Lan Ha Bay the Same as Halong Bay?
From a geographic standpoint, Lan Ha Bay is considered an extension of Halong Bay. Specifically, it's the southern "tip" of Halong Bay. However, each area have their unique features. While Halong Bay is more famous and full of travelers year round, Lan Ha Bay offer a more peaceful atmosphere with fewer tourists.
There is a second area called Bai Tu Long Bay, which is the eastern "tip" of Halong Bay.
Halong Bay is considered the "core" area for both of these zones.
How Long Should we spend on Lan Ha Bay?
Most cruises and tours will run about 2 days and 1 night, which should cover most of the notable activities and sights in the Bay. However, if you want an extended experience and do, see, and taste everything that Lan Ha Bay has to offer, there are tours that go for 3 days and 2 nights.
But if you're short on time, there are tours that offer a single-day trip lasting 4-6 hours. Unless you're really pressed for time, we don't recommend you take this option. The area's beautiful, and the activities are plentiful.
Take full advantage of the opportunity if you ever get the chance to visit!