Ha Long Bay has been recognized by UNESCO 2 times as a World natural heritage with thousands of islands and islets. The bay itself is testimony of how magical nature can be. However, there are many interesting facts about these well-known sites that you may not be known of. Let's look at the top 13 fascinating Halong Bay facts that will surprise you!
Halong bay is belong to the Gulf of Tonkin
Halong Bay is a part of the Gulf of Tonkin in north-east Vietnam, roughly 165 kilometres (103 miles) from Hanoi. Administratively, the bay belong to Quang Ninh Province. The bay also consist others attractions like Lan Ha Bay, Bai Tu Long Bay or Cat Ba Island.
Halong is the biggest bay and home to 2/3 total islands in Vietnam
Halong Bay is Vietnam's largest bay, with an area of 1,553km2 (600 square miles). It is home to 1969 islands and islets (2/3 of Vietnam's total island population), 989 of which have been named and 980 remain nameless.
These islands and islets are scattered throughout the area, but 775 of them are concentrated in the bay's core area, which has a dimension of 334 km2.
Most of the bay's islands are made from limestone
The majority of the islands and islets in Halong Bay are limestone. According to recent study, the forming history of these limestones may have begun 500 million years ago.
Apart from thousands of scattered granite formations, the sea takes up the majority of Halong Bay's dimension. It is, in facts, not as deep as we might think, with the deepest point measuring only 33 feet.
Most of the islands in Halong bay stay uninhabited
The overall population of Halong Bay is just around 1,540 people, with the majority of them living in three floating villages: Cua Van, Ba Hang, and Cap De. It used to be more, but beginning in 2014, approximately 300 people have been relocated to the land in order to preserve the natural beauty of the bay.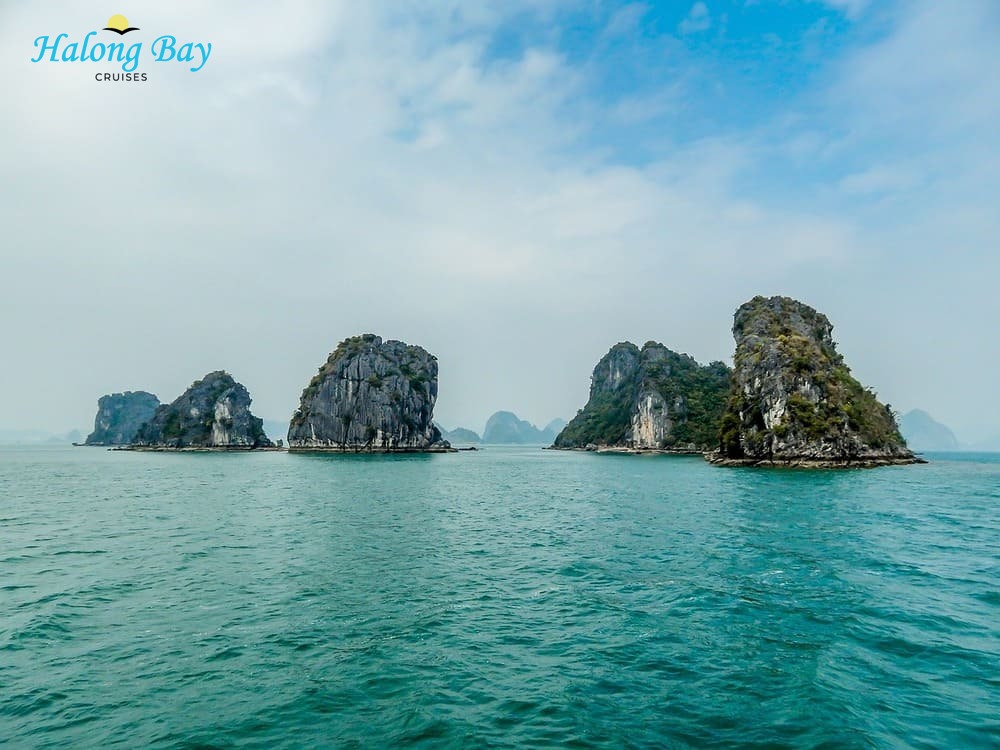 Only a few of the islands in Halong Bay are inhabited. There are only 40 inhabited islands, with 1929 others remaining uninhabited.
The main sources of income for the locals are fishing, pearl making, and tourism.
The land of legends
"Halong" means "Decensding Dragon" in English. It is associated with the tale that a dragon and her children from Heaven came to Vietnam to help the locals in defending the land from invaders. The jade and pearls split from the dragons to stop the enemy became islands and islets later. After winning the battle, the dragon and her children decided to stay in Halong Bay. Locals named the place where mother dragon settled Halong, and where her children settled "Bai Tu Long" in their hounor.
Not only that, but the majority of the islands and islets in Halong Bay have been named after local legends.
Read more at: Legend of Halong Bay: Mysteries of a World Heritage Site
Halong Bay played important roles during Vietnam War
Because of its strategic location, Halong Bay serves as a barrier to protect the Vietnamese mainland from sea invasion. Its expansive and labyrinthine cave systems had become an ideal location for the Vietnamese army to hide weapons, people, and prepare for a surprise attack during Vietnam War.
Nowadays, you can still see evidence of the war in some of Halong's caves, such as Hospital Cave.
A wild life paradise
Another Halong Bay fact is that aside from rough limestones islets, the area is also home to a flourishing natural life. There are 163 different coral species in the bay, with an average coverage of 30%.
Down from the emerald waters of the bay is the home of 200 species of fishes and 450 kinds of mollusks.
Travel Halong Bay by cruises are the most unique activities in Vietnam.
Unlike other parts in Vietnam, Halong Bay offers a unique form of travel – cruises. These Halong Bay overnight cruises are like floating hotels, featuring private cabins, restaurants, sundecks, and other amenities.
They'll leisurely journey around the bay, allowing you to take in the breathtaking landscape, visit famous Halong attractions, and participate in exciting water activities like kayaking or swimming.
Rita Cruise

Destination: Lan Ha Bay – Halong Bay – Cat Ba Island

Free Kayaking, Private Balcony

From:

$

145

Sena Cruise

Destination: Halong – Lan Ha Bay – Cat Ba Island

 2023 promotion – Only $130/person with free kayaking!

From:

$

134

Scarlet Pearl Cruise

Destination: Halong – Lan Ha Bay –  Dark & Bright Cave

Superb Early Bird Promotion – Only $165/person

From:

$

165
A surreal beauty featuring in many movies
With its spectacular and surreal beauty, it's no surprise that Halong Bay has appeared in a number of great films. "Kong: Skull Island (2017)" could be the most well-known. The bay featured in the film as a deserted paradise with thousands of karst formations and islets.
It would be an unforgettable experience to see Halong Bay while imagining yourself in the middle of a movie, wouldn't it?
Have been recognized as an UNESCO Heritage sites not once but twice times.
UNESCO recognized Halong Bay as a Natural World Heritage site not once, but twice: in 1994 and again in 2000. The United Nations Educational, Scientific and Cultural Organization have listed the bay under the value of natural landscape, geology and geomorphology.
Winner of numerous awards and nominee for many others
Thanks to its breathtaking natural splendour and diverse ecosystem, Halong Bay has attracted an extensive amount of attention from global travel organisations. The bay has competed in and won numerous prestigious prizes throughout the world. The following are just a few of the bay's awards to demonstrate its renown and why you should visit it.
Top 25 most beautiful destinations by CNN
One of 7 News Seven Wonders by New7wonders (2011)
Leading Tourist Attractions in Asia by World Travel Awards (2011)
Vietnam's leading tourist attraction by World Travel Awards (2019)
Certificate of Excellence by Tripadvisor (2013 – 2020)
Halong Bay is the most beautiful during early winter
Halong Bay has a subtropical climate with very humid and hot summers and mild winters. In contrast to other sea areas, Halong Bay is most beautiful in early winter, from October to November. The temperature is cool at that time of year, with clear skies and little rain, making it ideal for admiring the beauty of the bay.
Our completed guide about Halong Bay weather & climate: https://cruiseinhalongbay.com/before-you-go/best-time-to-visit/
Festival
Every year, the local government organises the Halong Bay Carnival to encourage tourism in the area. The event usually begins on April 25th and ends on May 1st. The carnival includes street activities, music concerts, and a 15-minute display of colourful fireworks. 
Halong Bay Carnival draws hundreds of performers from all over the world, as well as thousands of visitors.
References: