Halong Bay is one of Vietnam's most well-known tourist attractions. Every year, millions of people visit the bay and its surrounds because of its emerald waters, towering limestone cliffs, and thousands of small islands and islets.
When it comes to exploring Halong Bay, cruises are the most popular and convenient option. It would allow you to fully appreciate the beauty of the the place, as well as giving you the opportunity to spend the night in the middle of the sea and participate in an array of exciting activities such as kayaking or swimming.
However, some first-time visitors may be unaware of how to avoid travel snafus when taking in a Halong Bay cruise. In this article, CruiseInHalongBay.com will summarize the top 18 essentials Halong Bay cruise tips you should know before boarding to experience it at fullest.
Let's go!
9 Halong Bay cruise tips before you go
1. There's not only 1 Halong Bay, but 3
Many people believe that Halong Bay is just a single bay, but in fact, there are 3 bays in the area: Halong Bay, Bai Tu Long Bay, and Lan Ha Bay. Each bay has its own unique array of features and attractions.
Halong Bay is the most well-known and busy bay, including popular attractions such as Sung Sot Cave, Titop Island, and Luon Cave. It's the most popular of the 3 bays, yet it may become overly touristy at some point.
The largest bay is Bai Tu Long Bay. Since it's not as well-known as its neighbor, there aren't as many cruise visiting this area. That is why it is ideal if you want to stay in an off-the-beaten-part of Halong with a peaceful natural atmosphere.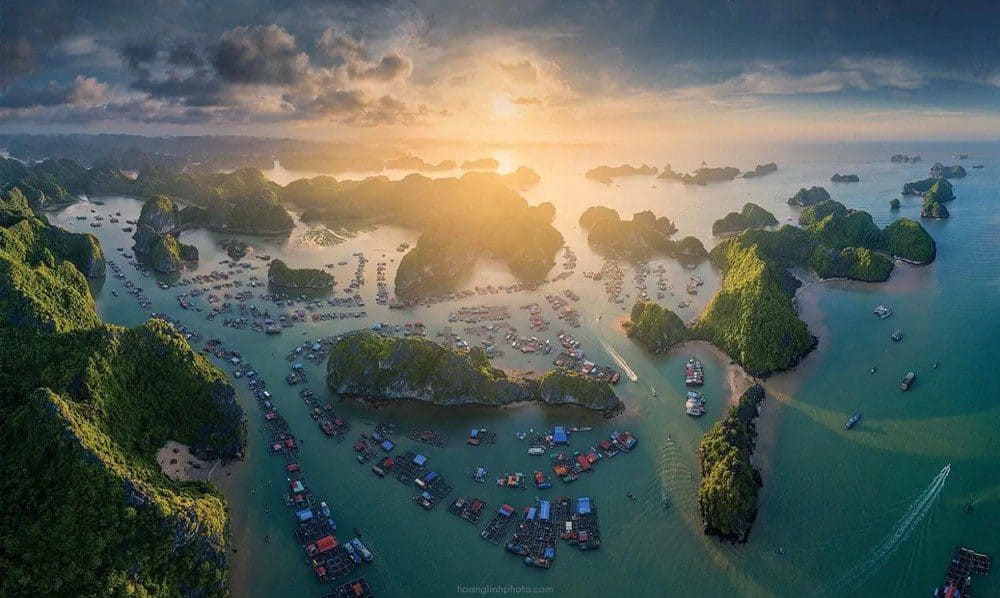 Lan Ha Bay, a rising Halong attraction, is the last one. The bay offers a mix of comfort and spectacular scenery, with most of the cruises operating there being 5 star, recently built, and equipped with modern amenities. Unlike other cruises, Lan Ha Bay cruises draw attention to relaxation. You won't have to crowd with tourists and can instead spend the most of your time relaxing on the boat and admiring the beauty of the bay.
2. You can go in 1 day
If you're tight in time, no worries, the bay got your back. A day cruise will do for a fast glance if you only have a short amount of time. Traveling back and forth in a single day would allow you to see the majority of the bay's top attractions, including Sung Sot Cave, Thien Cung Cave, and Ti Top Island. There are other activities as well, like swimming or kayaking.
These day cruises typically pick you up at 8:30 from your hotel and drop off you at 21:00. However, keep in mind that it takes around 200 kilometres to go from Hanoi to Halong Bay, so you would only have 6 hours to enjoy the bay after spending over 3 hours on the shuttle.
3. But, overnight cruise is much better
An overnight cruise is far better option if you don't have to squeeze too much into your schedule.
These types of cruises are just like a hotel on the sea. You find everything you need for an overnight stay, such as comfortable private cabins, restaurants for meals and wide sundeck for sightseeing.
An overnight cruise in Halong Bay helps you to explore more remote parts that are unreachable by a day trip and see the bay at different times of the day and night. Additionally, you are able to enjoy interesting activities like kayaking, swimming, and squid fishing.
There are 2 common itineraries: 1 night and 2 nights.
A one-night trip will sail around the bay while engaging in the usual activities, such as swimming, kayaking, and cave exploration.
Choose a 2-night cruise if you want a more authentic experience. This route will take you farther into the peaceful, rural area of Halong Bay. On some cruises, travelers can even spend the night on Cat Ba Island, the largest island in the bay.
4. There're many cruises options
Just like a hotel on the sea, there are many Halong Bay cruise options available, from budget to luxury. It's important to choose a cruise that fits your budget and interests.
A budget Halong Bay cruise is ideal for those who are more interested in the natural surroundings. These cruises are often boutique in style, tiny in size, and equipped with a basic facilities. If you like to be comfortable on a boat, then luxurious cruises are an excellent choice. The cruises in this category are entirely brand new, with cutting-edge amenities and unique activities.
However, we believe that mid-range cruises offer the best value for money. These cruises provide a combination of comfort and a breathtaking journey at the same time. They're new, comfortable and affortdable. 
It is also worth noting that no matter whatever cruise type you choose, the itineraries at each bay are all the same. Because Vietnam has strict guidelines to preserve the beauty of Halong, all cruises must stick to a preset schedule by the authority.
A Halong Bay Cruise package usually included most of the on-board amenities, such as accommodation, meals, and activities. You practically do not need to pay anything extra when on board. However, to avoid confusion later, double-check the inclusions of each cruises. 
Top Halong Bay Cruises
Rita Cruise

Destination: Lan Ha Bay – Halong Bay – Cat Ba Island

Free Kayaking, Private Balcony

From:

$

145

Sena Cruise

Destination: Halong – Lan Ha Bay – Cat Ba Island

 2023 promotion – Only $130/person with free kayaking!

From:

$

134

Scarlet Pearl Cruise

Destination: Halong – Lan Ha Bay –  Dark & Bright Cave

Superb Early Bird Promotion – Only $165/person

From:

$

165
5. Summer is good, but how's about the typhoon?
When it comes to travel to the sea, many people believe that summer is the best time. This is not always the case in Halong Bay.
Summer in Halong Bay, like everywhere else, is hot and humid, making it ideal for water-based activities like kayaking and swimming. However, typhoons and tourist crowds make July an less attractive time to explore Halong Bay.
Typhoons are likely happen during the summer months, particularly from July to August, therefore it is important to keep an eye on the weather forecast 5 to 10 days before you go. Even while cruises have a clear policy and a 100% refund in most cases due to weather concerns, traveling during stormy weather would be inconvenient.
Summer is also peak season for local tourists, therefore the bay's main attractions may be crowded.
The best time to explore Halong Bay, on the other hand, is from October to December, when the weather is pleasant and the skies are clear. The weather ranges from 20 to 28°C with very little rains.  Sometimes it may become a little cold, so remember to bring some jackets with you.
6. Last minutes booking isn't always good
To be fair, last-minute bookings can offer you with a cheaper deal at times. The cruises usually provide an appealing discount for bookings that depart within 1 to 3 days.
While booking Halong Bay Cruises at the last minute may appear to be a good option, it can be risky too. Good cruises can quickly sell out, especially during peak season (October to April), so if possible, book in advance to secure availability on your dreamed cruises.
7. It's better to book online in advance
Online is the best way to reserve a cruise to Halong, and there are good reasons for that.
For first of all, it will give you more time for researching what you want to do, how long you want to spend, and which routes you want to take.
After you've gathered all of the necessary information, an online Halong Bay agency can assist you in comparing prices and options from several cruise operators and booking your cruise with just a few clicks.
Finally, these online platforms may give you with the most up-to-date information that can help you plan ahead, such as weather, policy, or what's to bring.
Read more at: Where to book Halong bay Cruise: Top recommendations & booking tips
8. Travel to Halong Bay is easy
Halong Bay is approximately 170 kilometers to the east of Hanoi. There is a new highway called 5B that connects these two locations and takes only 3 hours to get there.
For an additional cost, most cruise companies provide transportation from Hanoi to Halong Bay. This service may be supplied by the cruise line directly, or you may be able to find some offerings on the internet. They usually pick you up and drop you off at your hotel in Hanoi Old Quarter, which is really convenient.
Many individuals also choose to travel from Ninh Binh to Halong. The distance is the same, but it would take a little longer because there is no roadway between these two locations.
If you're depart from Ninh Binh, check with your tour operators or contact directly with a bus company. We suggest The Long bus, the expert in organize transfer between Halong Bay & Ninh Binh. 
Here's our completed guide about ways to get to Halong Bay
9. Don't pack too much
Remember to pack lightly for your Halong Bay cruise.
First, because most cruise ships have limited storage capacity, it's recommended to bring only the necessities. More importantly, you will not spend much time on board. Your entire 2 or 3 days on board will be packed with activities and outdoor time, so packing light is strongly advised.
Top Lan Ha Bay Cruises
Dragon Bay Cruise

Destination : Lan Ha Bay – Halong Bay – Dark & Bright Cave

Private Balcony in all cabins

From:

$

118

Rita Cruise

Destination: Lan Ha Bay – Halong Bay – Cat Ba Island

Free Kayaking, Private Balcony

From:

$

145

Scarlet Pearl Cruise

Destination: Halong – Lan Ha Bay –  Dark & Bright Cave

Superb Early Bird Promotion – Only $165/person

From:

$

165
9 Halong Bay cruise tips during your trip
10. No drinks are included (and they could be pricey)
A Halong cruise package is included most of everything, but the drinks. All the cruises equipped a bar on board with typical drinks such as cocktails, beer, and coke. The price is slightly higher than usual because it is the only place to get drinks in the midst of the bay.
They do, however, provide  complimentary bottles of water (500ml) per day.
Notes: It is not permitted to bring your own drinks on board.
11. No worry about dietary
One thing you shouldn't be worried about when visiting Halong Bay is your dietary needs.
Vegetarian and vegan meals (wonderful!) are available on Halong Bay cruises. They can also accommodate to your unique dietary needs too, as long as you keep them informed in advance.
12. Wifi nearly existed
While most operators claim to provide wifi, the connection can be laggy to non-existent.
If you have to stay connected, think about getting a local SIM card with data, even if it is rather slow.
However, it is preferable to plan for one or two days without internet access.
13. Don't bring too much cash
Firstly, Halong Bay trips are all-inclusive, so you won't have to pay much extra outside of the package during your time on board.
A few things, such as cocktails, spa treatments, and souvenirs, may not be covered. You might pay for these extras with a card machine on board.
It should be noted that these machines only accept VND & will charge a additional fee (3-4%) for credit cards payment. Visa or Master is alright but some machines does not take AMEX. 
14. Kayaking is a Must
Kayaking is one of the most thrilling activities on Halong cruises. It's an excellent way to get up close and personal with the limestone cliffs, as well as to explore the hidden caverns and lagoons that the big cruises are unable to access.
Kayaking works well for people of all ages and experience levels. If this is your first time doing it, the tour guides can accompany you and teach you the basics.
If you enjoy kayaking, try a route that includes one of the following locations: Luon Cave, Dark & Bright Cave, or Tra Bau fishing village. These are the top attractions to kayak with breathtaking landscapes.
15. Swimming Time is Short
When all the itineraries offering swimming,  it's important to note that swimming time is very short. You might have 1 hour everyday of your itinerary for swimming. It can often get extremely crowded on the beach too, especially during the summer months.
Choose Lan Ha Bay cruises if swimming is your priority. These cruises will not stop at a beach, but rather in a calm and safe sea area which suitable for swimming. That way, you won't have to pack with the crowd.
Read more at: Best time to Visit Halong Bay
16. Making Sure to Wake Up for Sunrise
Watching the sunrise above the limestone islets is one of the magical moments of your trip to Halong Bay. Sitting on the cruise's deck, sipping a cup of coffee and admiring the gorgeous surroundings would be the highlight of the cruise and a fantastic way to start the day.
So, be an early bird on your morning in Halong Bay!
17. Tipping is Not Mandatory
Tipping is not mandatory on Halong Bay cruises because Vietnam does not have a tipping culture, although it is always appreciated. If you believe the staff gave excellent service, a small tip is an excellent way to express your gratitude. However, if you are on a tight budget, you aren't obligated to tip.
See more about tipping guide in a Halong Bay cruise here: Halong Bay Cruise Tipping
18. It's Worth Going Extra
There are other wonderful attractions in the surrounding area that are frequently overshadowed by Halong Bay. So, the last Halong Bay cruise tips is going extra miles if you're not on a tight schedule.
One of them is Cat Ba Island, the largest island in northern Vietnam. While there, you'll have the opportunity to explore a beautiful island with hidden attractions. There are numerous locations to visit, including Cat Ba National Park, a UNESCO World Heritage site that is home to more than 32 animal species and 65 golden-headed langurs.
If you're traveling with family, Halong City itself a good place. The vibrant city will have a lot to offer, such as Sun World, a theme park with loads of games for kids. If you want to swim some more, there are hotels in the city with private beaches too. 
Conclusion
In conclusion, a Halong Bay cruise is an experience of a lifetime. From kayaking to watching the sunrise, there's a lot of interesting activities waiting for you.
Remember to pack sunscreen, a hat, and comfortable shoes, and most importantly, enjoy the stunning beauty of Halong Bay. Don't forget to book your Halong Bay cruise in advance, especially during peak season and follow our cruises tips for the most completed experiences.
Hope that our 18 Halong Bay cruise tips could help you to prepare and enjoy your trip better. If you need any extra information, do not hesitate to contact us or leave a comment below.
See you in Halong Bay soon!